EYES IN THE SKY: **In our tour guide voice** "And if you direct your attention to the left side of Highway 361, coming into Ingleside from Gregory Portland, you'll notice we have some familiar faces on this billboard!" This billboard was made possible through a generous sponsorship by Dairy Queen of Ingleside. We are so excited to have this opportunity to recognize the Ingleside High School Class of 2022 Top Ten Graduates!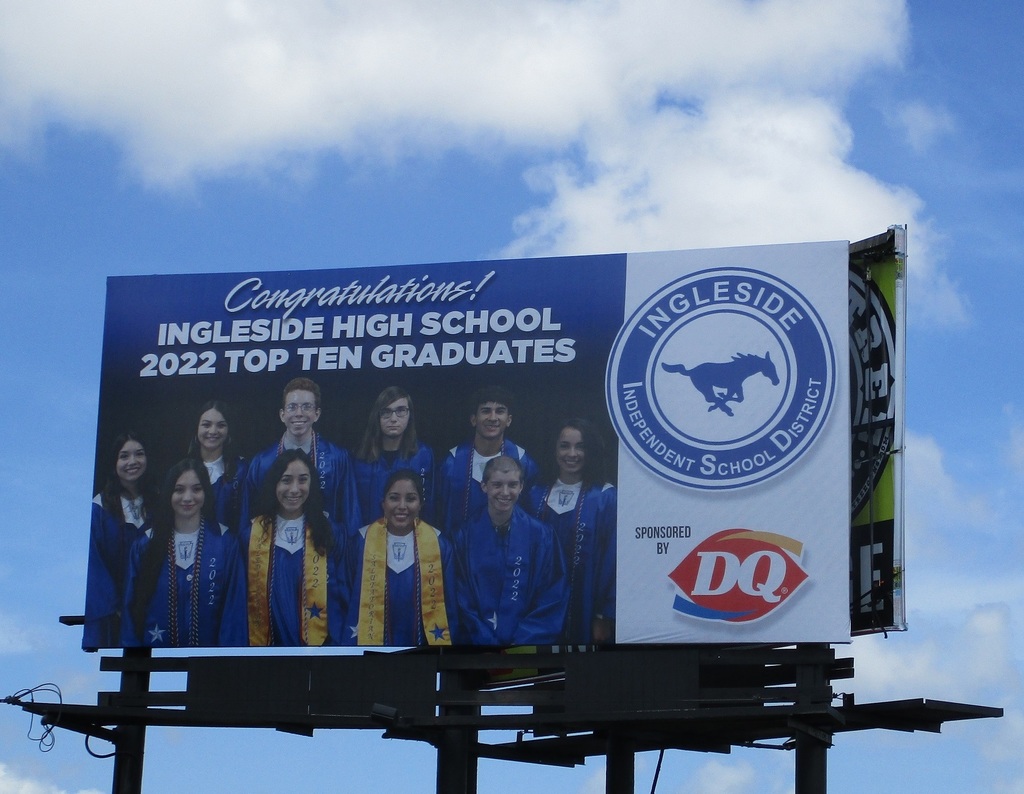 SUMMER MODE ACTIVATED: Please see below for Ingleside ISD's Summer Schedule. ☀️⛱😎
YUM!: Today's (June 6th) FREE Summer Lunch Program, served at Gilbert J. Mircovich Elementary and Ingleside High School is Pulled Pork Sandwich with Chips, Side Salad, Seasoned Corn, Veggie Cups, & Applesauce or Fresh Fruit. We are serving from 11:00 AM - 12:30. See you soon!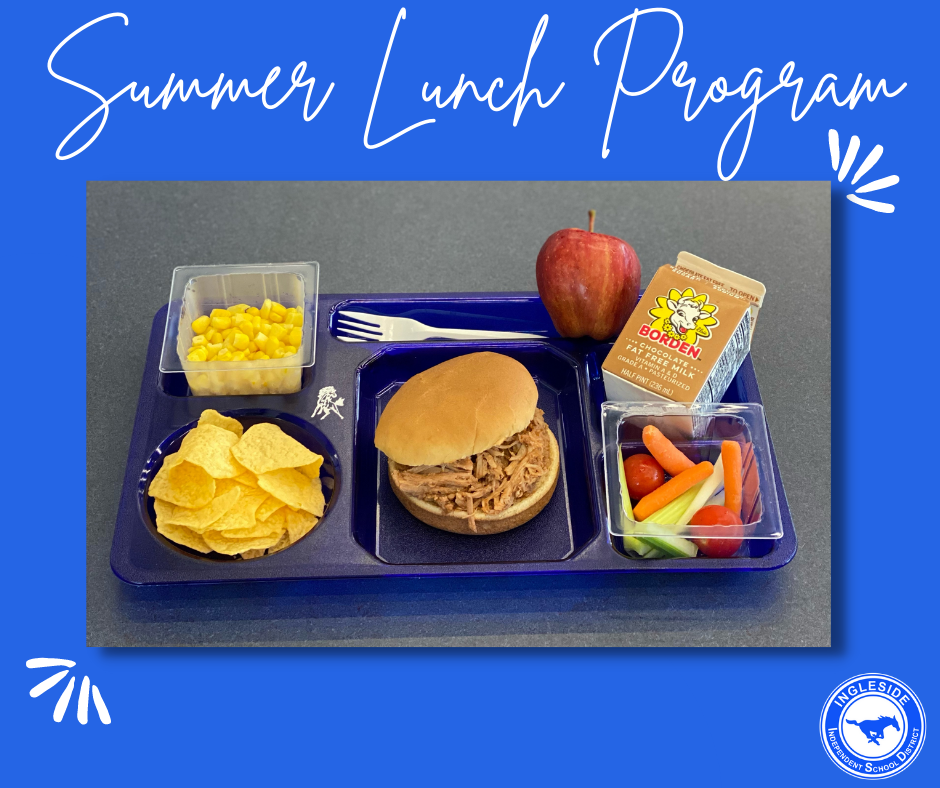 Ingleside ISD is participating in the Texas Department of Agriculture's Summer Feeding Program. Free Breakfast and Lunch will be served to ALL children and served at two sites: at Ingleside High School located at 2807 Mustang Dr and Gilbert J. Mircovich Elementary, located at 2720 Big Oak Lane, Ingleside (June 6th – June 30th ~ Closed Fridays). Breakfast will be served from 7:30AM to 8:30AM and Lunch will be served from 11:00AM to 12:30PM. Adult meal prices are $2.50 for breakfast and $4.00 for lunch. We will be offering several meal choices at breakfast and lunch. Meals must be consumed on site. We are looking forward to a successful Summer Program. Come join us for breakfast and lunch! Please contact the Ingleside ISD Child Nutrition Department at (361) 776-2712 for more information.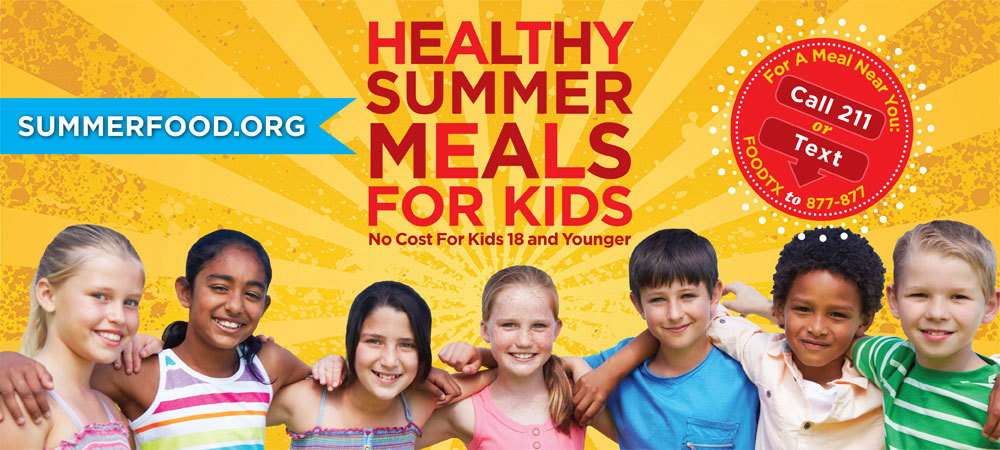 🎶 🥁🎺🏆STATE SOLO AND ENSEMBLE CONTEST WINNERS: So proud of our students who placed at the State Level! Two soloists, Trevin Thurman and Colin Thurman, won gold medals! 🥇 Also, the woodwind Ensemble made a Division 2 Excellent rating on the Mozart. Way to go!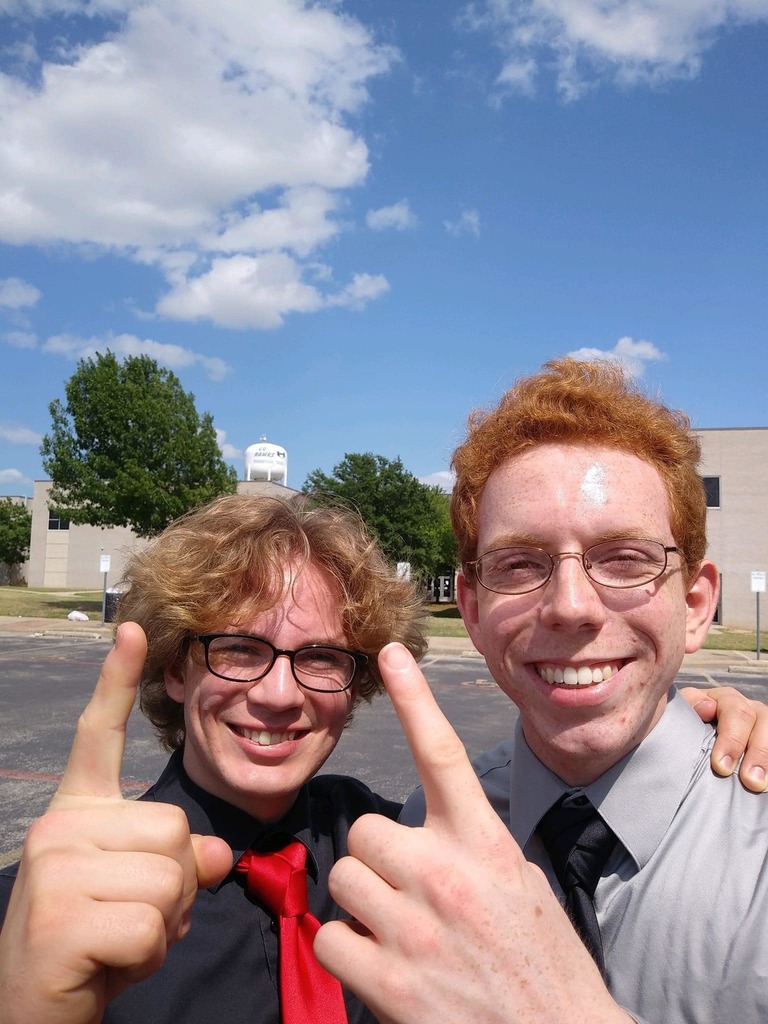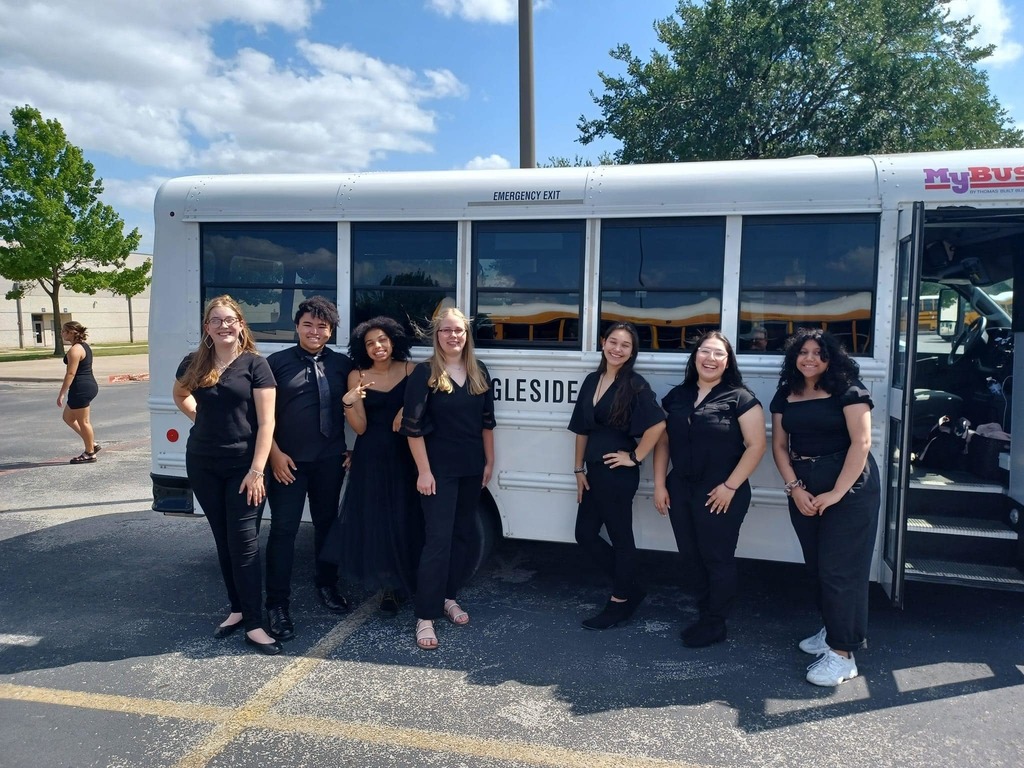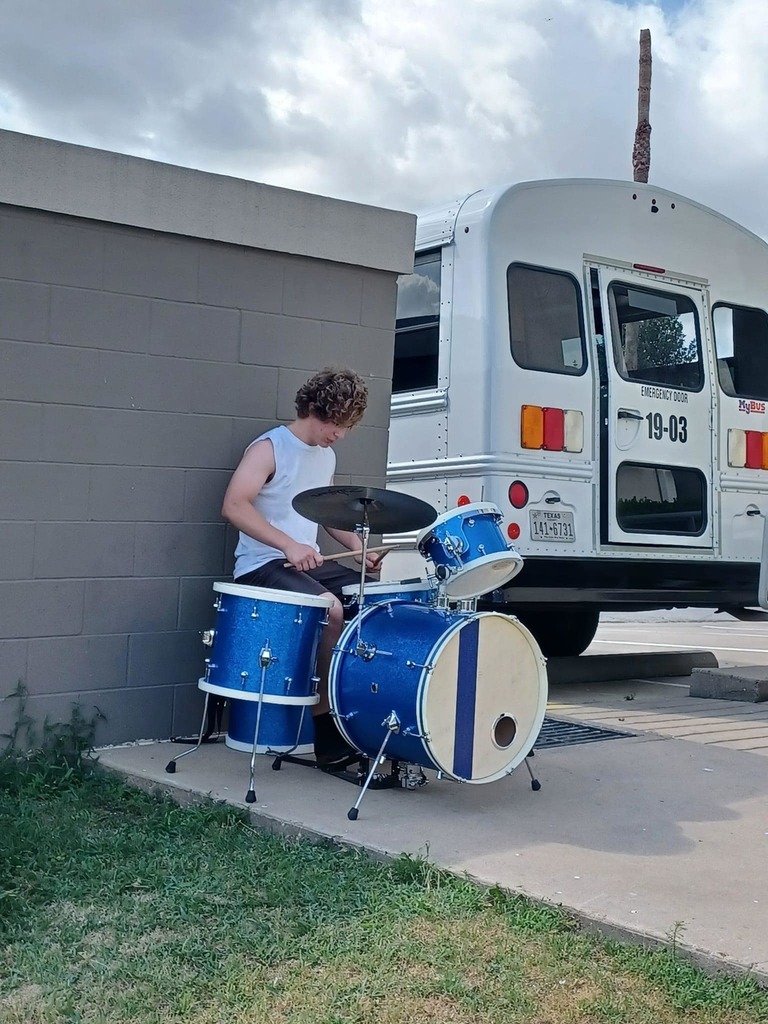 BEHIND THE SCENES PHOTOS 📸 : A lot of love and care from the HS team of staff goes into preparing for a successful graduation ceremony and making sure every student is ready to walk the stage and receive their diploma. It also takes a LOT of hard work, grit, and dedication to achieve this important milestone in life. A lifetime of memories were made over the last twelve years and we can't wait to celebrate our students accomplishments. Ingleside Prepared, World Ready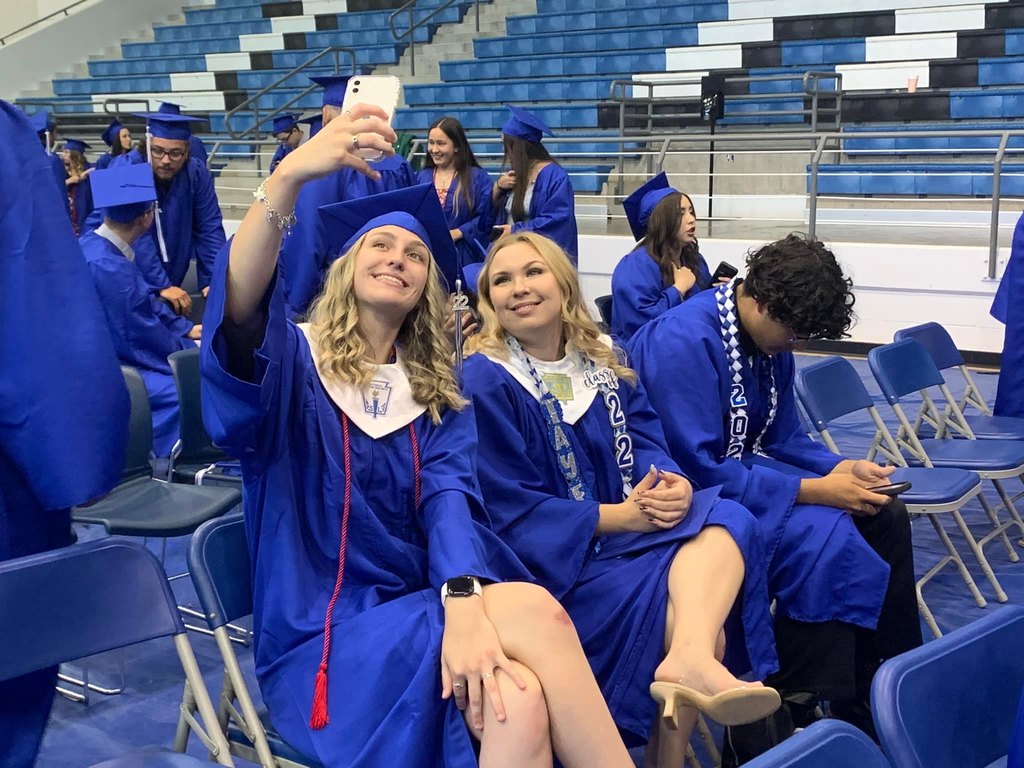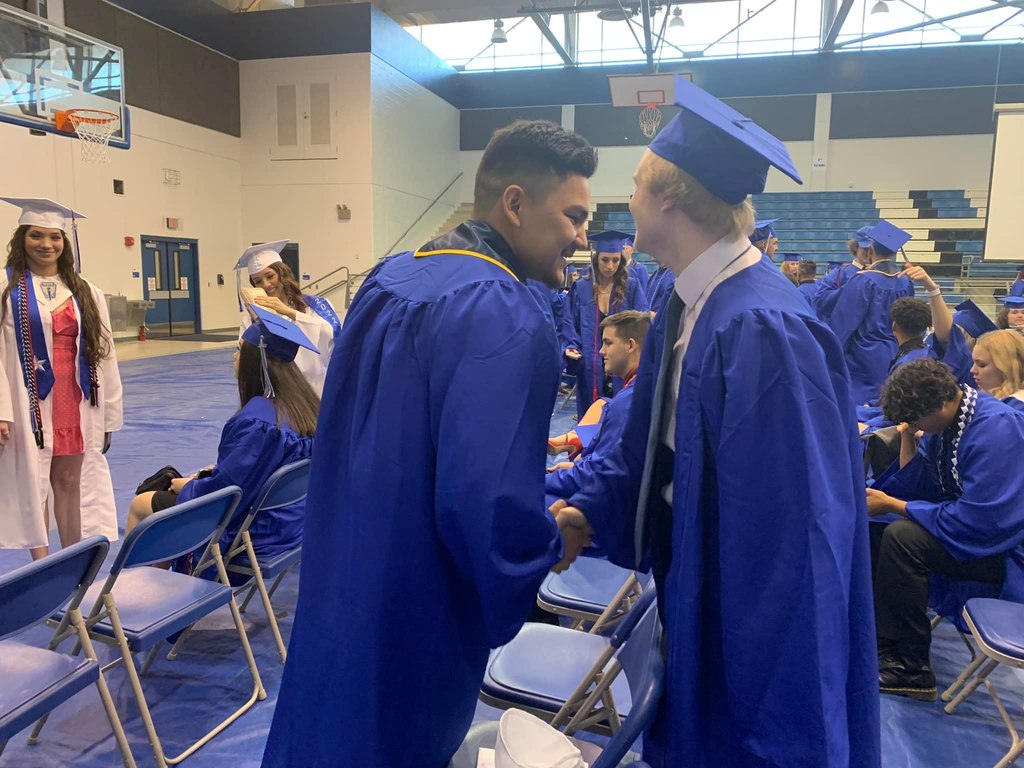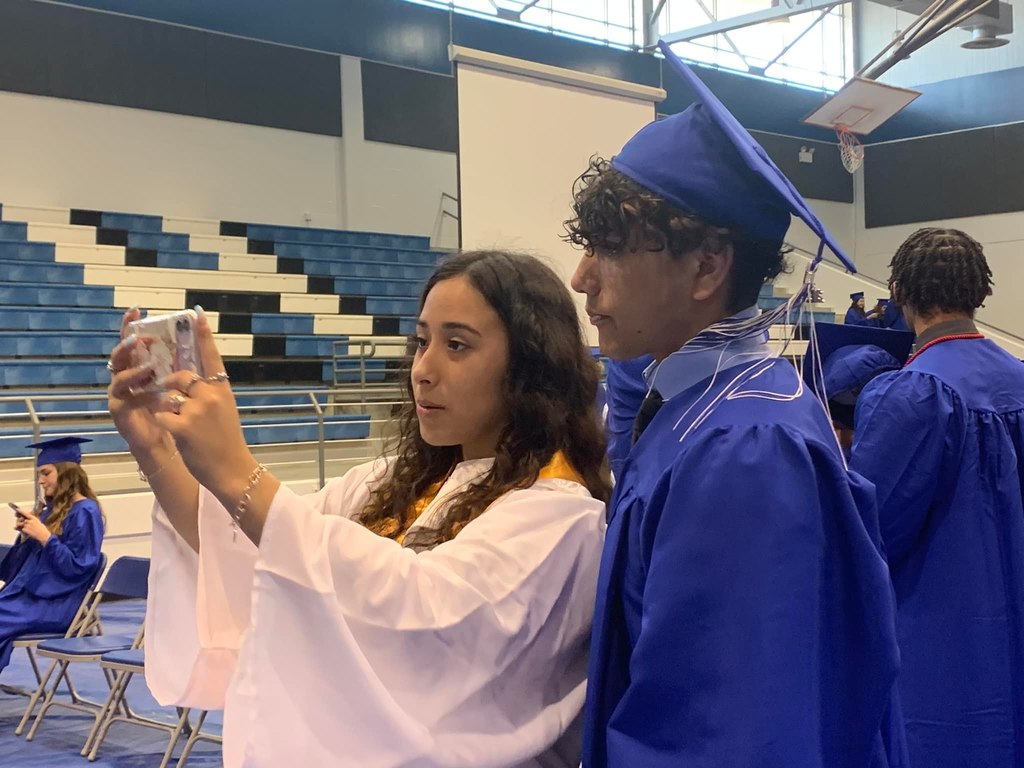 The Ingleside Mustangs mourn with Uvalde CISD. It is with heavy hearts that our thoughts and prayers will continue to go out to the victims, families, students, staff, and the community of Uvalde during this unimaginably tragic time. As Ingleside ISD will be undergoing campus transitions next year, please know we are making decisions to ensure that safety is a top priority while we are under construction with the new middle school. This summer will be utilized to continue to evaluate and enhance the security throughout the district. We'd like to thank Ingleside Police Department for protecting our children and staff, they were on patrol at all campuses this morning and will continue to be there for us all through graduation on Friday. IISD Counselors will be available for any student or staff member needing support.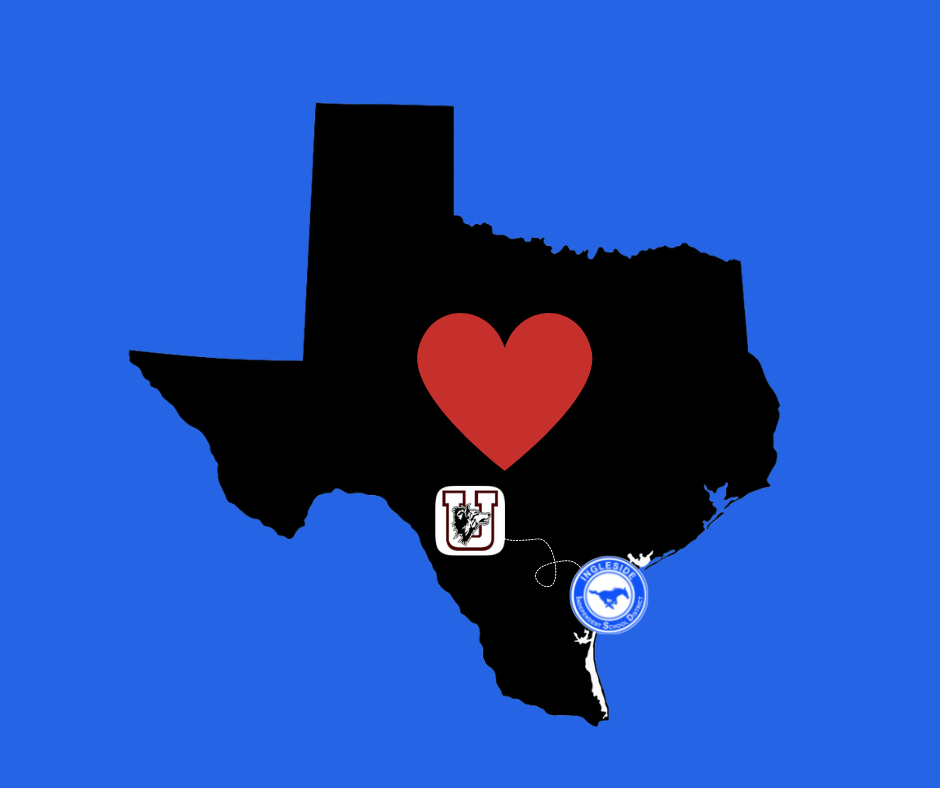 Tiny little voices cheering "Congratulations!" could be heard throughout the halls of Ingleside Primary School this morning as students shared their happiness for the Seniors of Ingleside High School while they conducted their final Senior Walk through the hallways. Such a proud moment for Seniors to reflect on the hard work and determination it took to reach this important milestone in their lives. Way to go, Mustangs!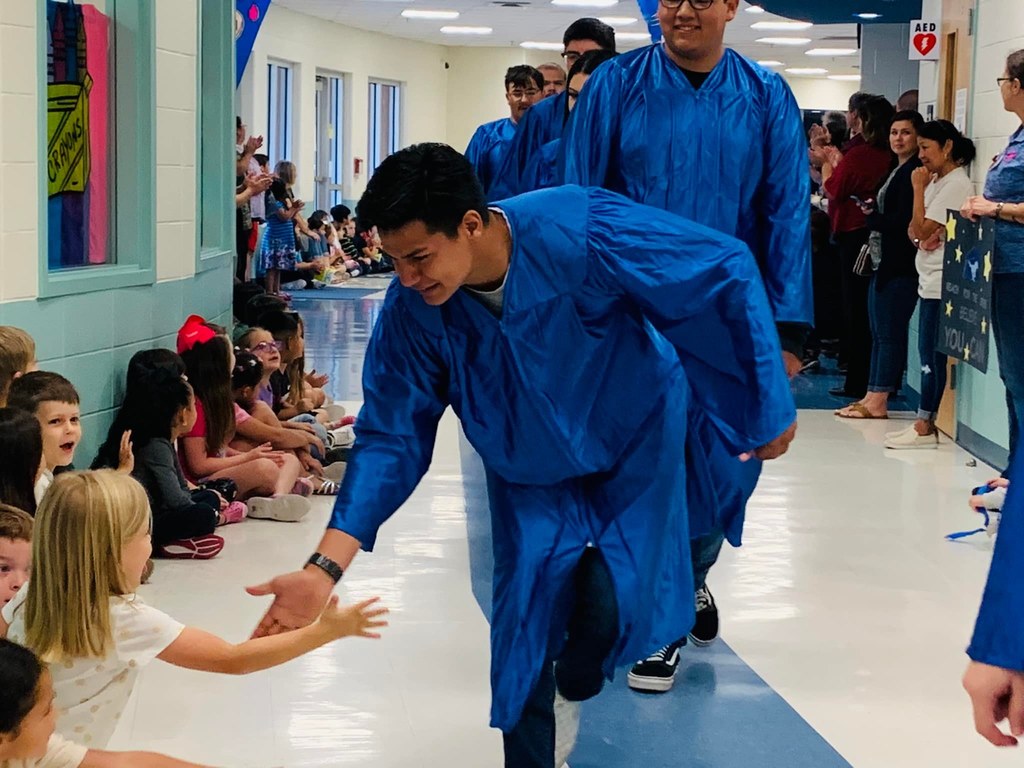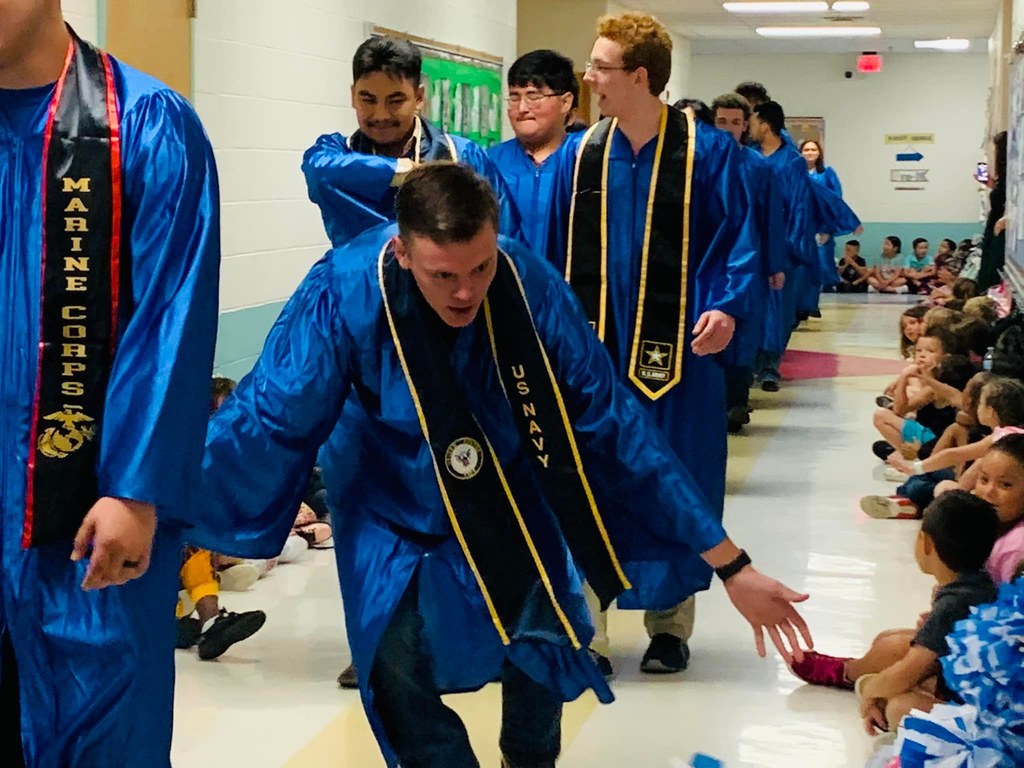 "ARE ROCKS EATEN BY LAVA?" & "WHERE DO ROCKS GET THEIR COLORS FROM?": Those are just a few of the questions that stemmed from 2nd graders at Ingleside Primary School. Student authors from Blaschke Sheldon Elementary came to read their books they wrote and illustrated about the rock cycle. Their confidence, creativity, and passion was on full display as they shared their final products. We appreciate their willingness to share what they know with others in their footsteps!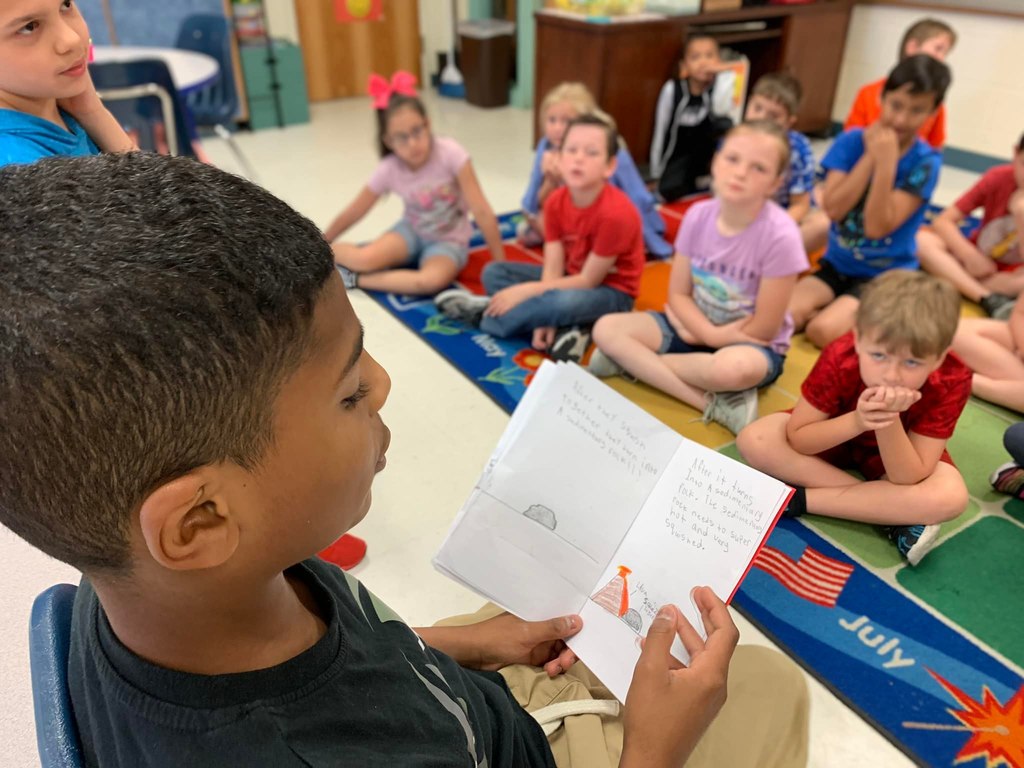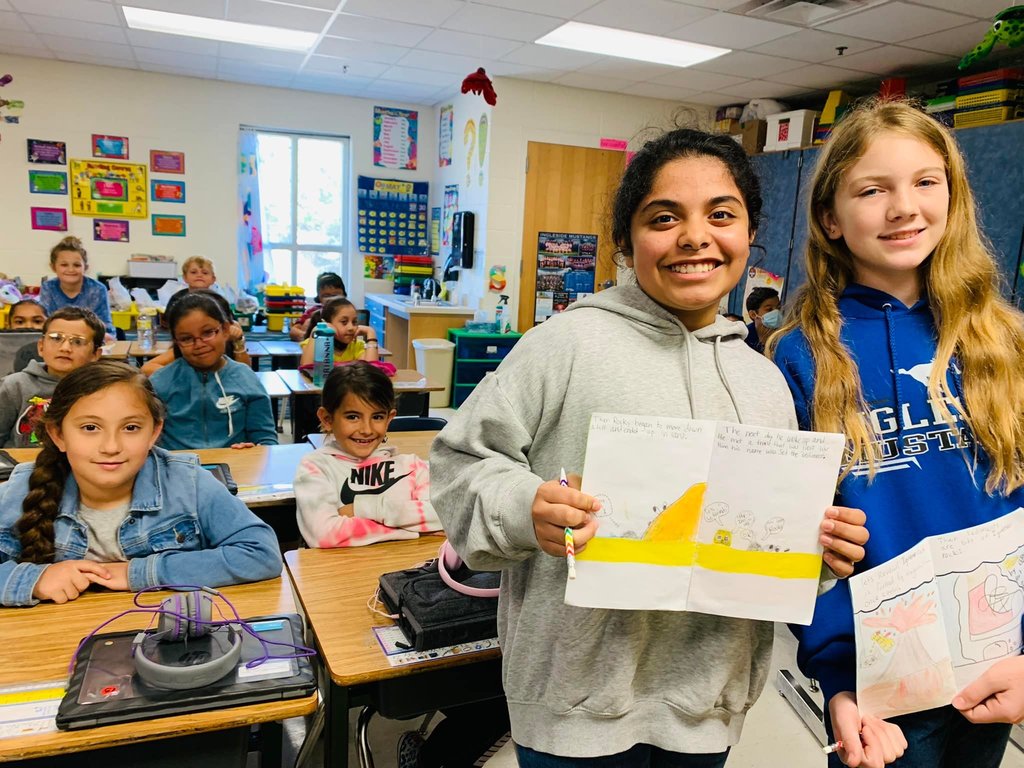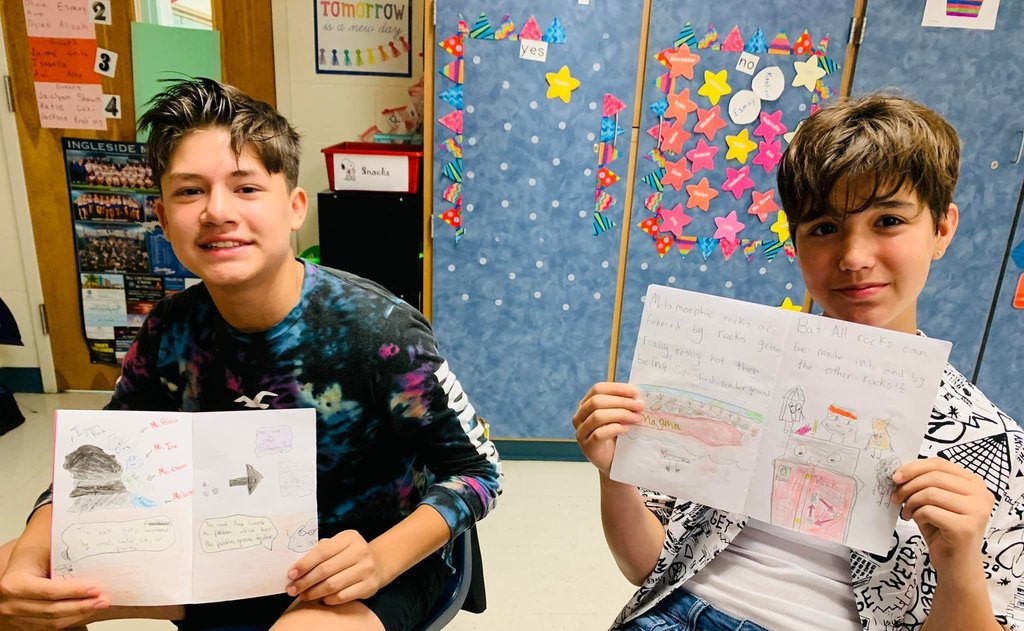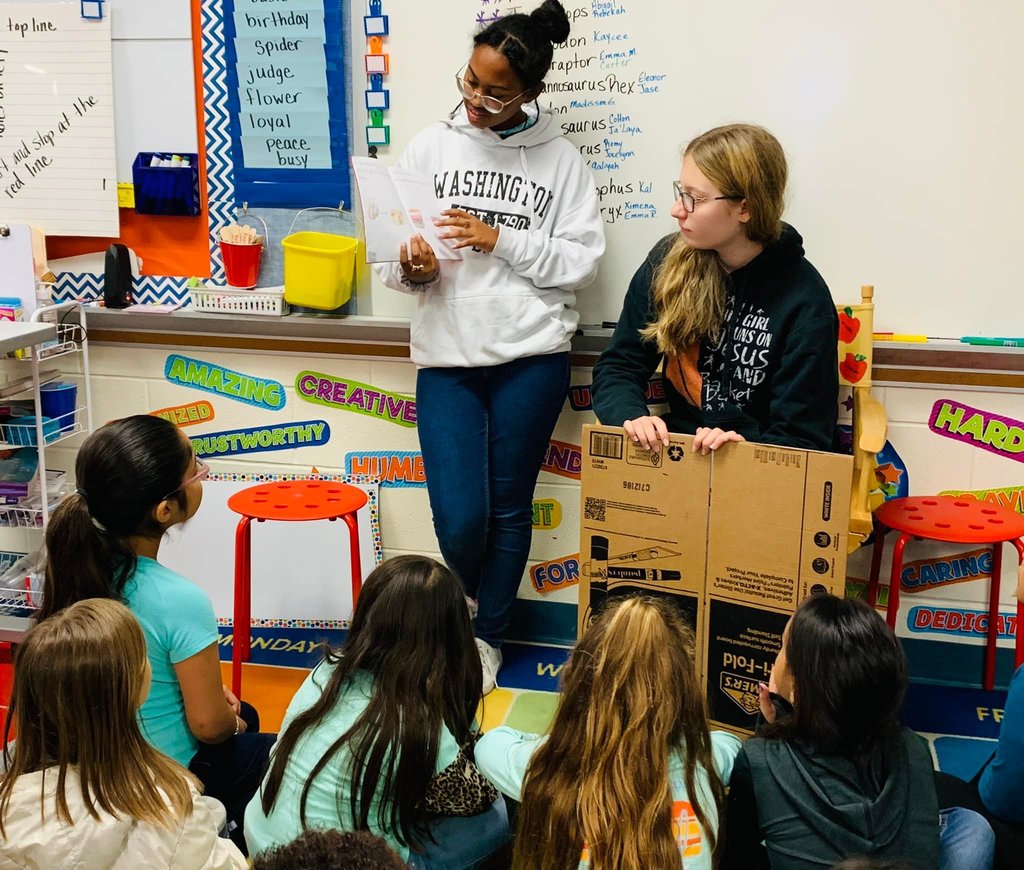 HAPPY SPEECH PATHOLOGIST DAY! Speech Pathologists are specialists in communication. They focus on the various parts of speech including language, voice, fluency and swallowing. They also help our students with speech and language disorders. In general, they help Mustangs communicate better and more effectively. They help to assess, diagnose and treat speech language disorders. We are so thankful for the work the SLP's do for our Mustang Family!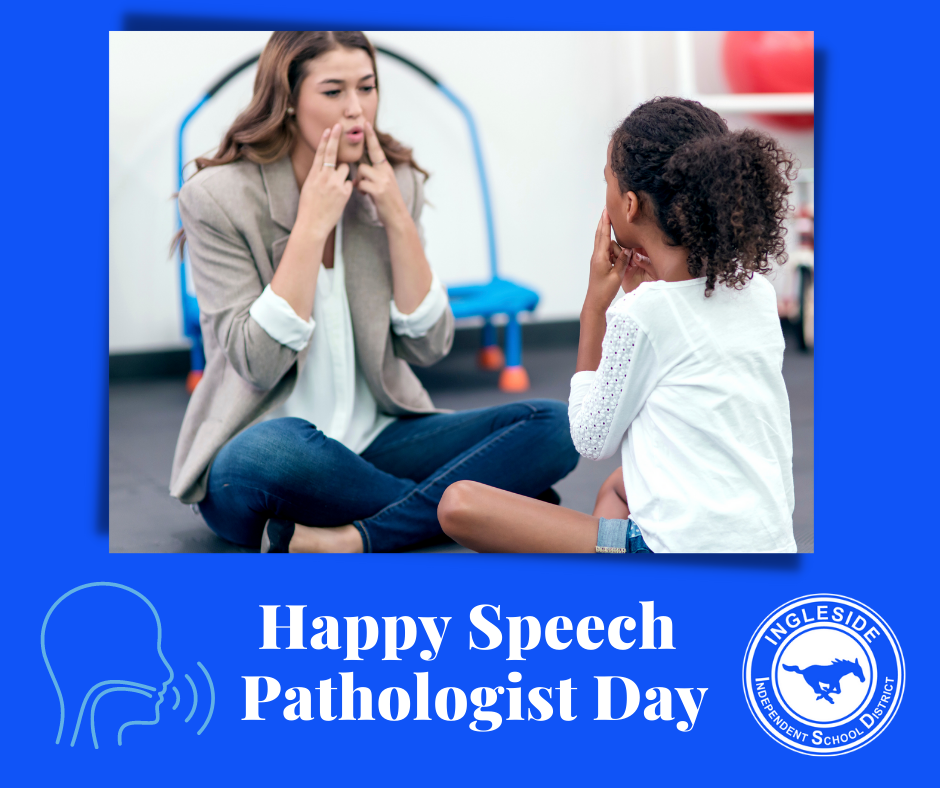 READY FOR INDUSTRY JOBS: Representatives from Turner Industries came and met with students in the Welding Program and presented on the importance of safety on job sites and worked one on one with students by conducting mock job interviews. Each student prepared their resume and had an opportunity to build confidence in interviewing and receive feedback on how to present their best selves during interviews. Students were also treated to lunch and received some cool swag items.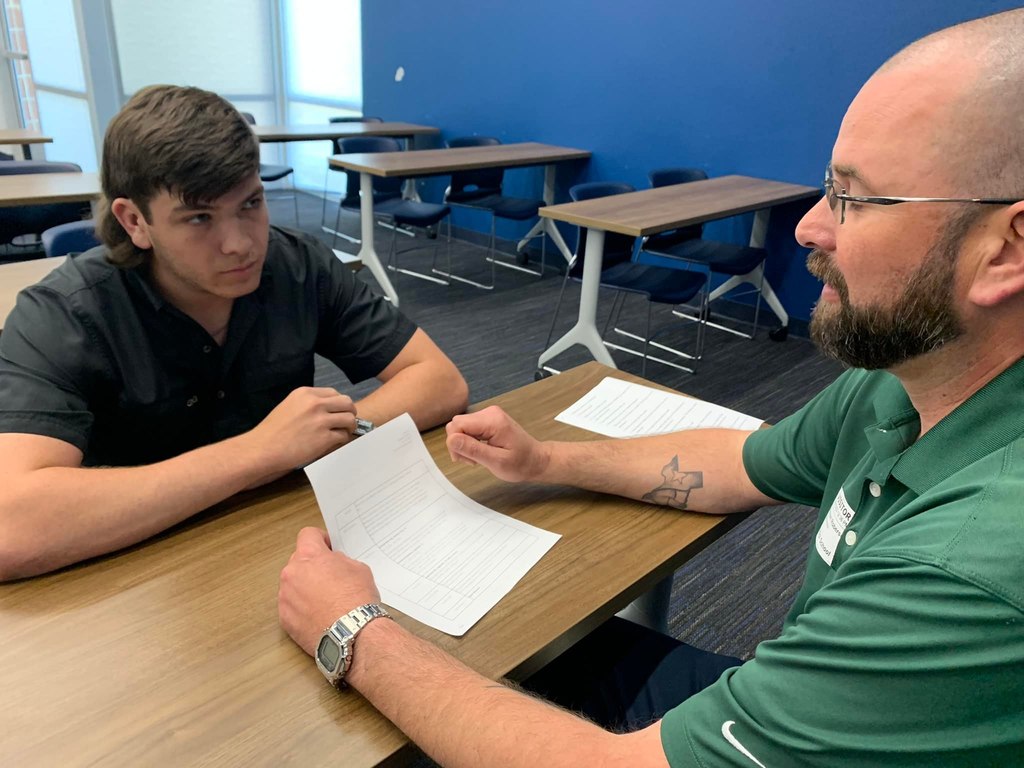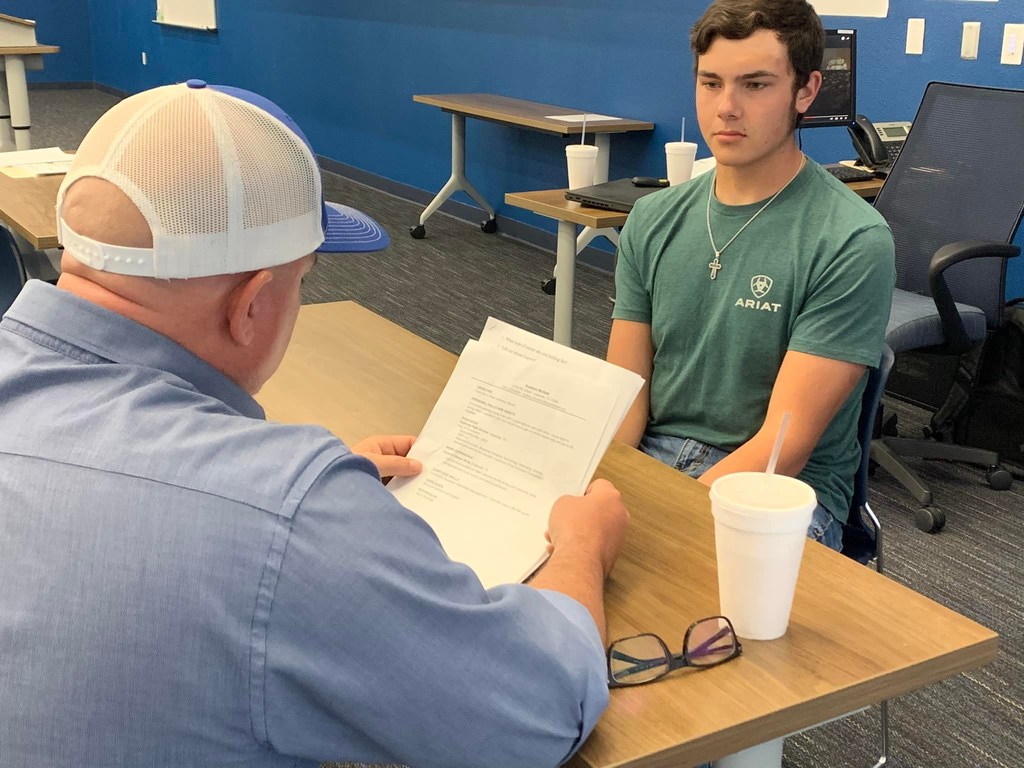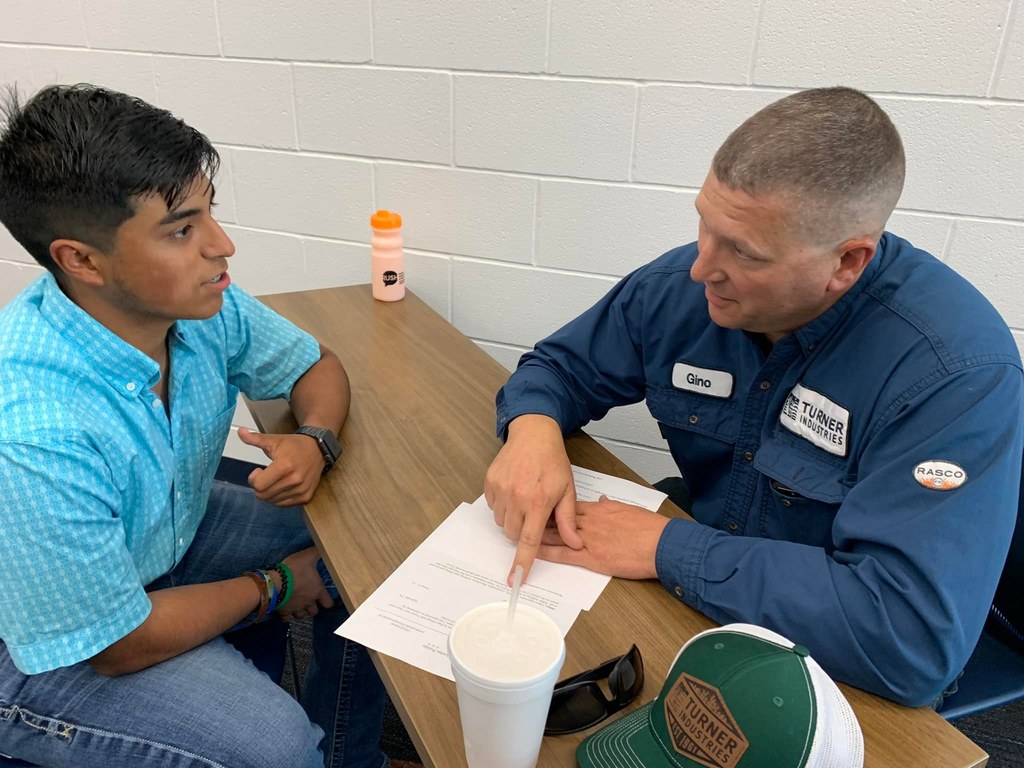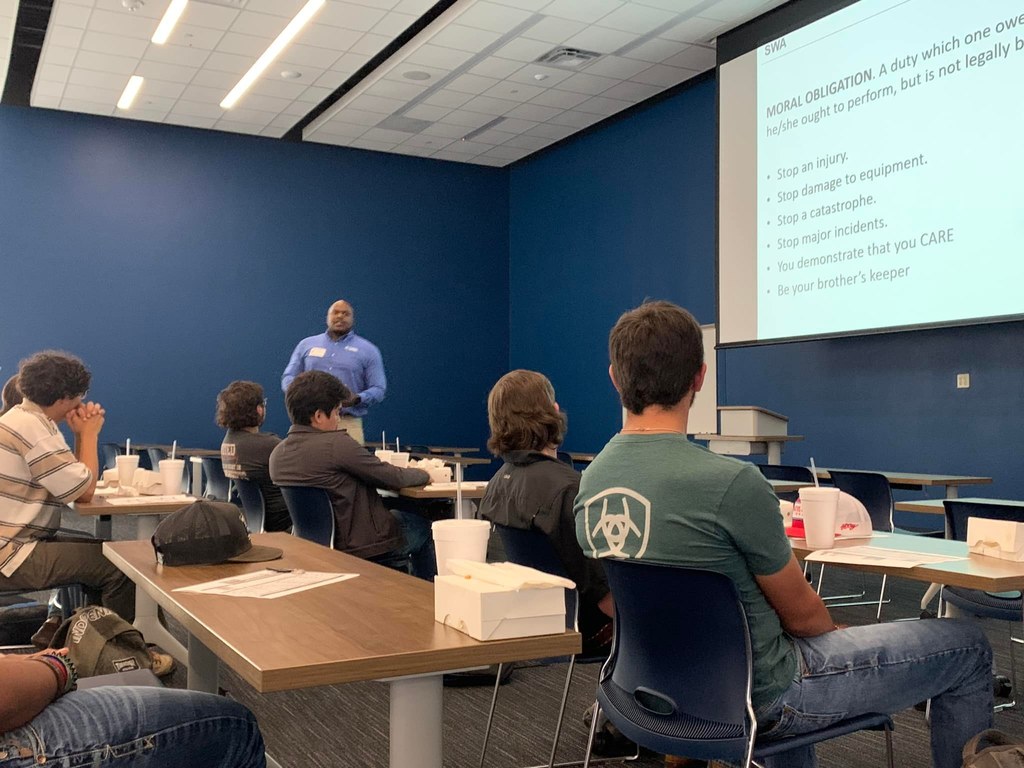 INGLESIDE TO THE RESCUE: Over 50 students, staff, and community members have come together and made the pledge to save lives in the Coastal Bend. The Coastal Bend Blood Center will be in the Ingleside High School parking lot until 4:00 PM. Donors receive a t-shirt and a Smoothie King coupon. Appointments are recommended, however walk-in's are welcomed. By giving blood, others can live. 🙌🏼 🩸💙🤍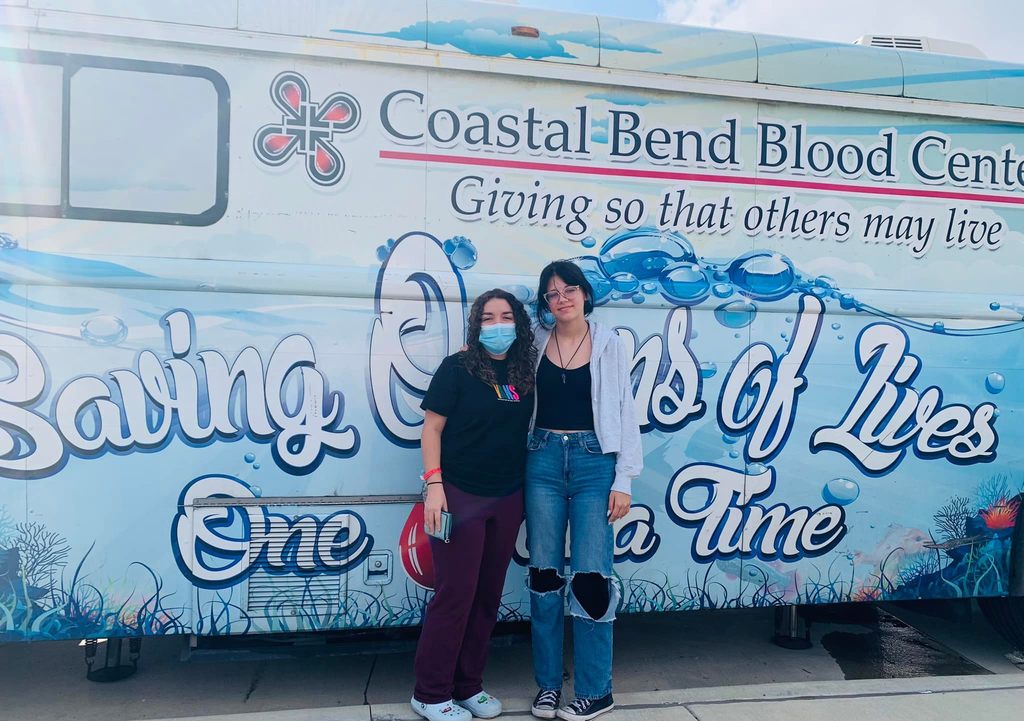 NATIONAL SCHOOL NURSE DAY: The health of a student is inextricably linked to their ability to learn. IISD School Nurses help over 2,000 students succeed by providing healthcare across the campuses through examination, treatment, and follow-up. Additionally, IISD Nurses help children with their physical, psychological, emotional, and social health requirements as well as their academic success. We celebrate this day to raise awareness about the importance of school nurses in the educational setting and thank them for being an essential part of the Mustang Family!
31 NEWLY NATIONALLY CERTIFIED PHLEBOTOMY TECHNICIANS: Celebrating some Mustang greatness, as we have thirty-one students in the Health Sciences Dual Credit coursework through Del Mar College who achieved their certificates for phlebotomy technicians. This means after high school, they are ready to obtain jobs in the medical field. We are so proud of their achievements. Help us recognize the following students: Garcia-Veliz, Ashley Gonxalez, Samuel Longoria, Faith Nelsom, Kaden Raya, Jessenia Robinson, Alexander Saucedo Lara, Yazmin Villarreal, Breanna Balangon, Mallory Canales, Danielle Castro, Addysin Crain, Owen Delossantos, Laylani Galvan, Elijah Galvan, Elisia Gonzales, Kylee Loveall, David Perez, Caleb Ramirez, Makayla Adame, Roxy Buentello, Adriana Coronado, Zayda Davila, Kiana Deluna, Savannah Hinojosa, Marissa Marmolejo, Haylee Trevino, Gabriela Vasquez, Roslynn They are led by their instructor, Venita Crow.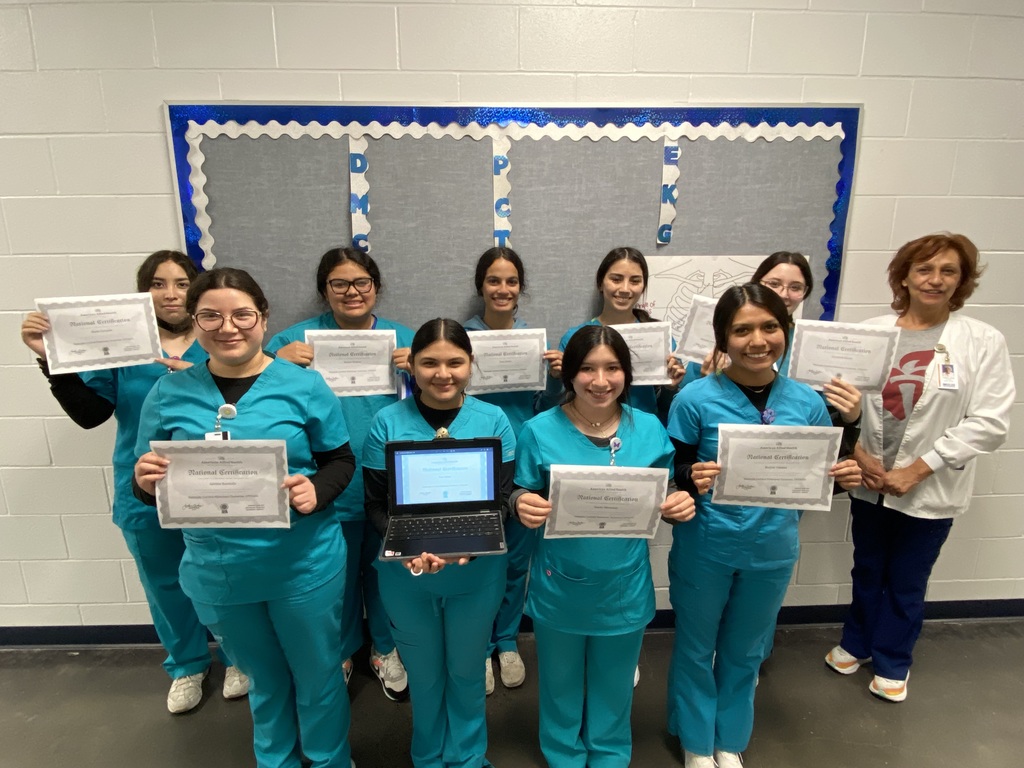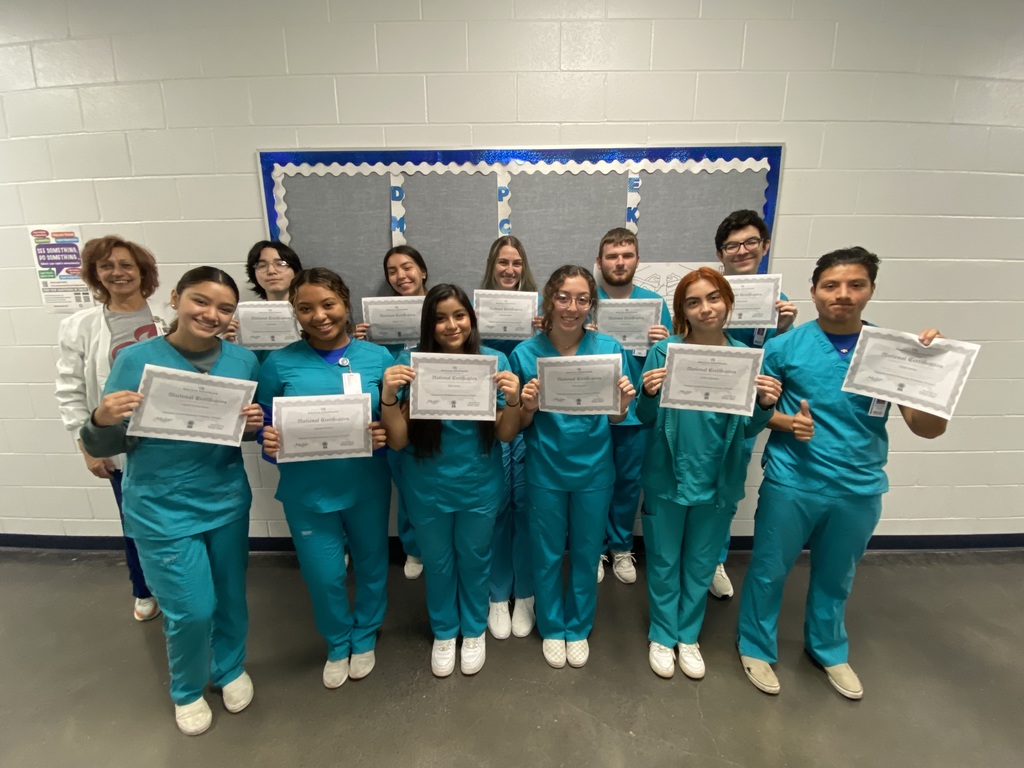 CONNECTING STUDENTS TO CAREERS: Representatives from Kiewit Offshore Services spoke to students in the Welding Program at Ingleside High School. Presenters discussed the importance of work ethic, attendance, and drive. All of these soft skills are so important to not only obtain an entry level position, but to also move up within the company. Representatives took students' information who were interested in applying after high school and are making plans to get to work! Students even had an opportunity to show off their new virtual welding tool, it was a hit!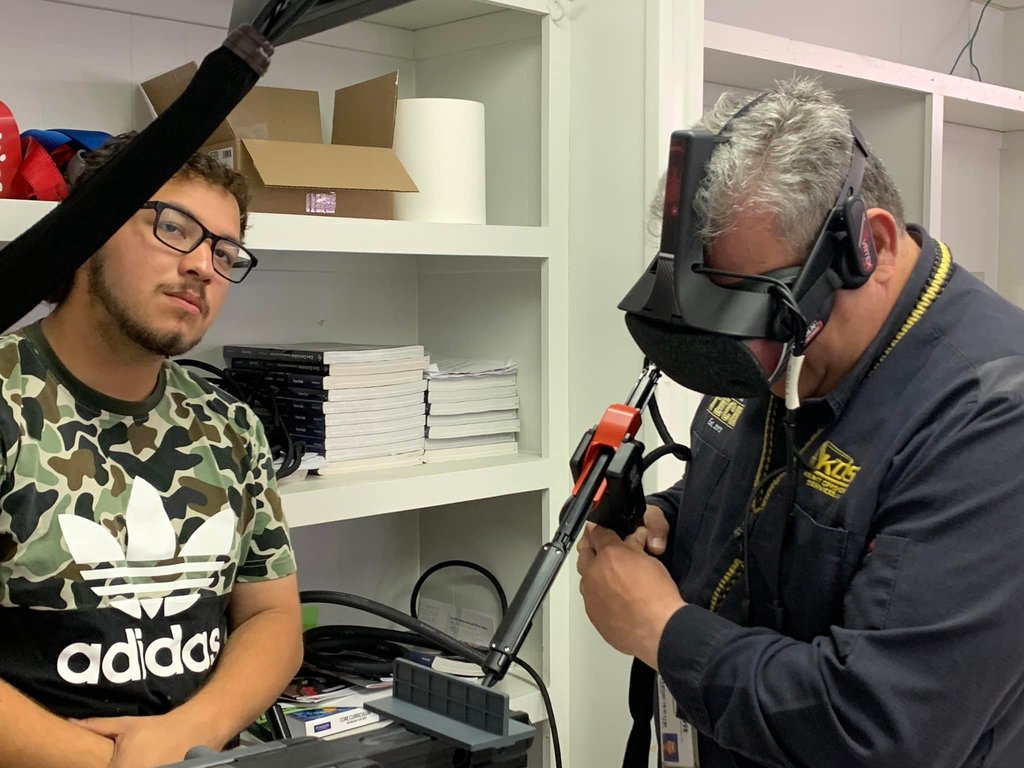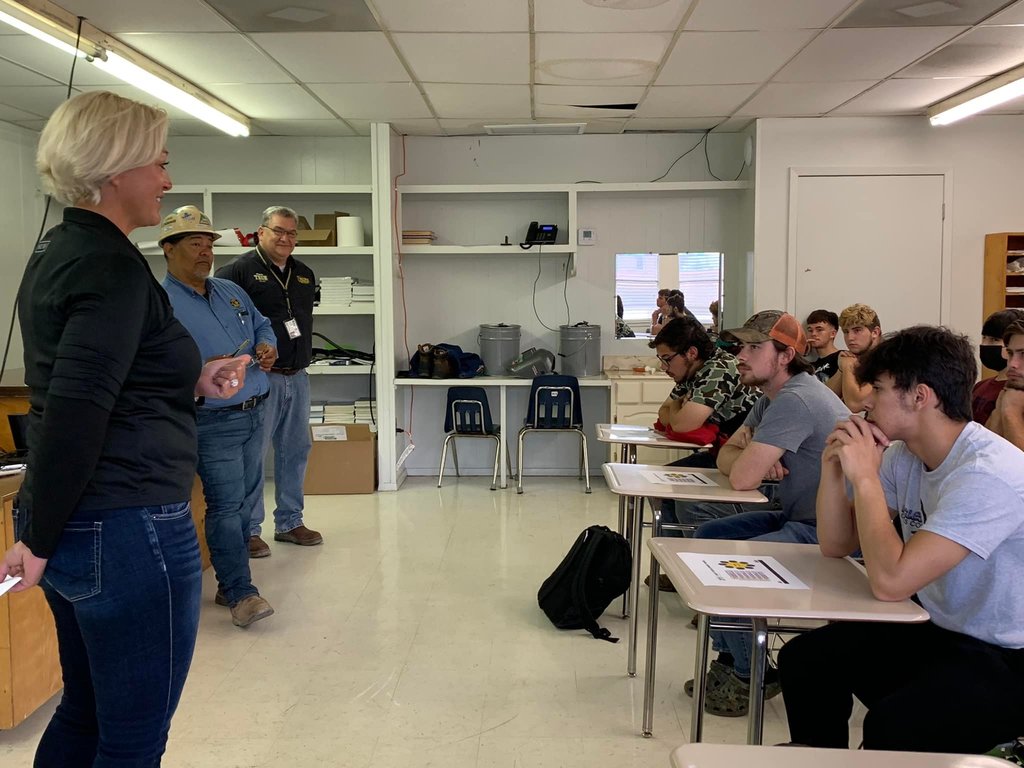 Happy School Lunch Hero Day: Between preparing healthy meals for IISD students, adhering to strict nutrition standards, navigating student food allergies, and offering service with a smile, school nutrition professionals are true heroes. Today, we celebrate and showcase the difference school nutrition professionals make for every child who comes through the cafeteria. This special day provides us with the perfect opportunity to recognize the hardworking professionals in our school cafeterias.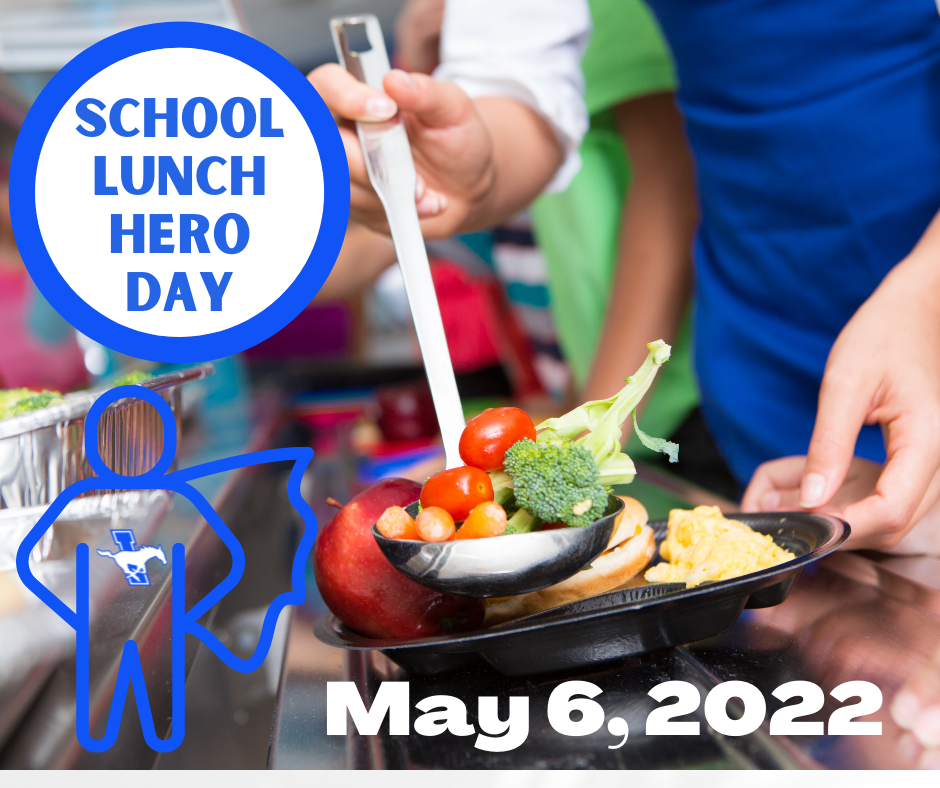 Join us for an evening of fun on Thursday, May 5th. Ingleside ISD will be holding the Family Engagement & Community Fair where over 50 different local businesses and non-profits will be coming together to provide FREE giveaways and information for parents and students. There will be food trucks, FREE face painting, and more!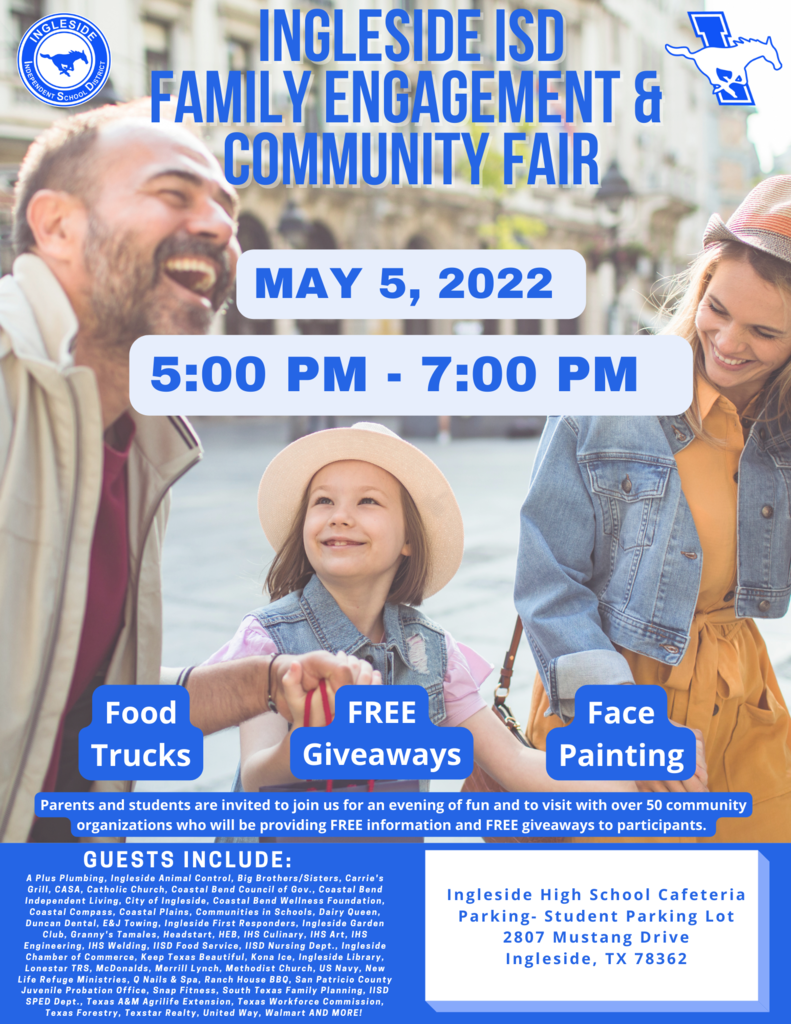 TEACHER APPRECIATION WEEK: Teaching is known to be a time-consuming and challenging profession, so this week is our chance to say thank you to those teachers that play or have played such a huge role in our lives. This week, we give extra credit and recognize those educators who work tirelessly to make a lasting contribution & direct influence in our lives. Without teachers, no other profession would exist. We have amazing teachers at Ingleside ISD!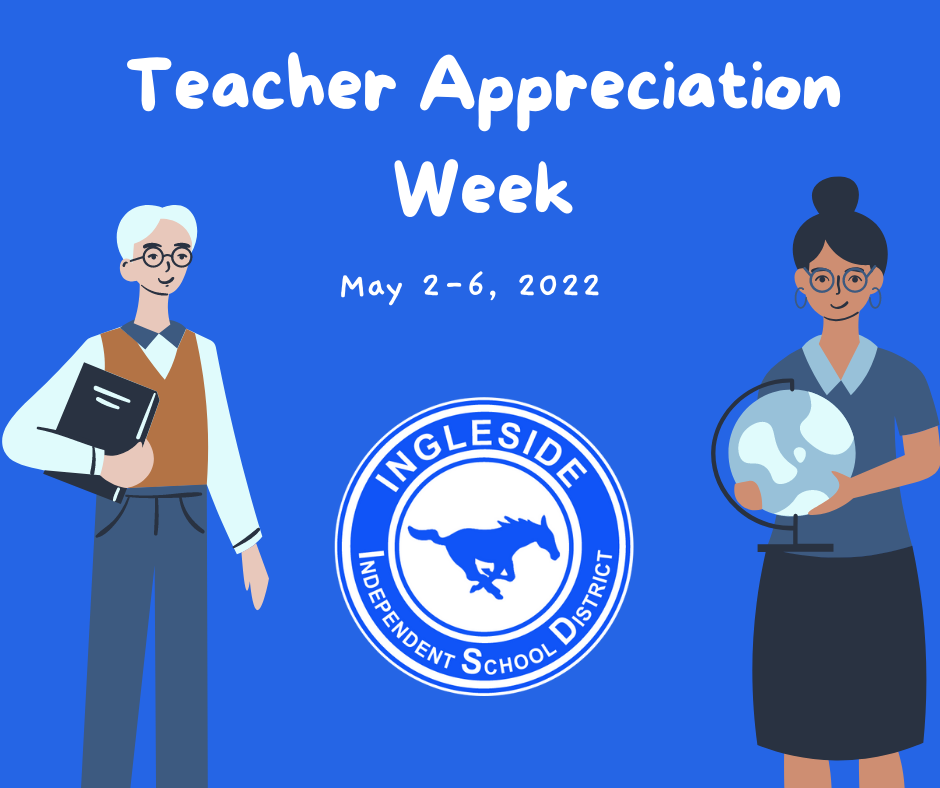 HAPPY ADMINISTRATIVE PROFESSIONALS DAY: Join us in recognizing the professionals of our Mustang Family who keep our campuses and departments running smoothly every day. We celebrate this day to recognize the work of Secretaries, Administrative Assistants, Receptionists, and other Administrative Support Professionals. Central to any school district, these professionals keep an office organized and running efficiently. We sincerely appreciate their ability to handle the unexpected, multi-task, and keep us all in working order!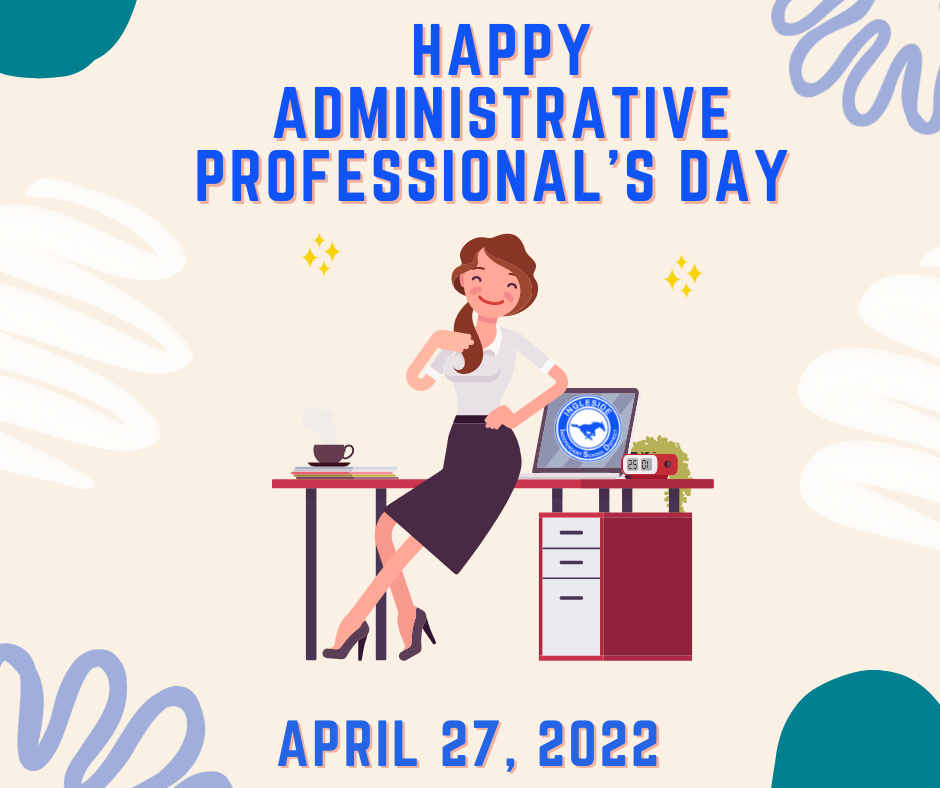 INGLESIDE ISD HAS THE LATEST AND GREATEST EQUIPMENT FOR LEARNING: The Ingleside High School Welding Program is excited to announce that we have started using new, state-of-the-art equipment for our students. Welding students are now using virtual reality to train by using simulators for hands on experience. This machine is so high-tech, it has an extremely realistic weld puddle that is visually and audibly responsive to operator behavior, helping students learn when to adjust techniques. At Ingleside ISD, we take pride in providing the best learning opportunities for our students.