✋🧼NOTES FROM THE NURSE: You can help yourself and your loved ones stay healthy by washing your hands often, especially during key times when you are likely to get and spread germs.
Over 90 individuals became an #EverydayHero at Ingleside High School after donating blood during the first Blood Drive of the school year with the Coastal Bend Blood Center. A big thank you goes out to all who volunteered to help save a life!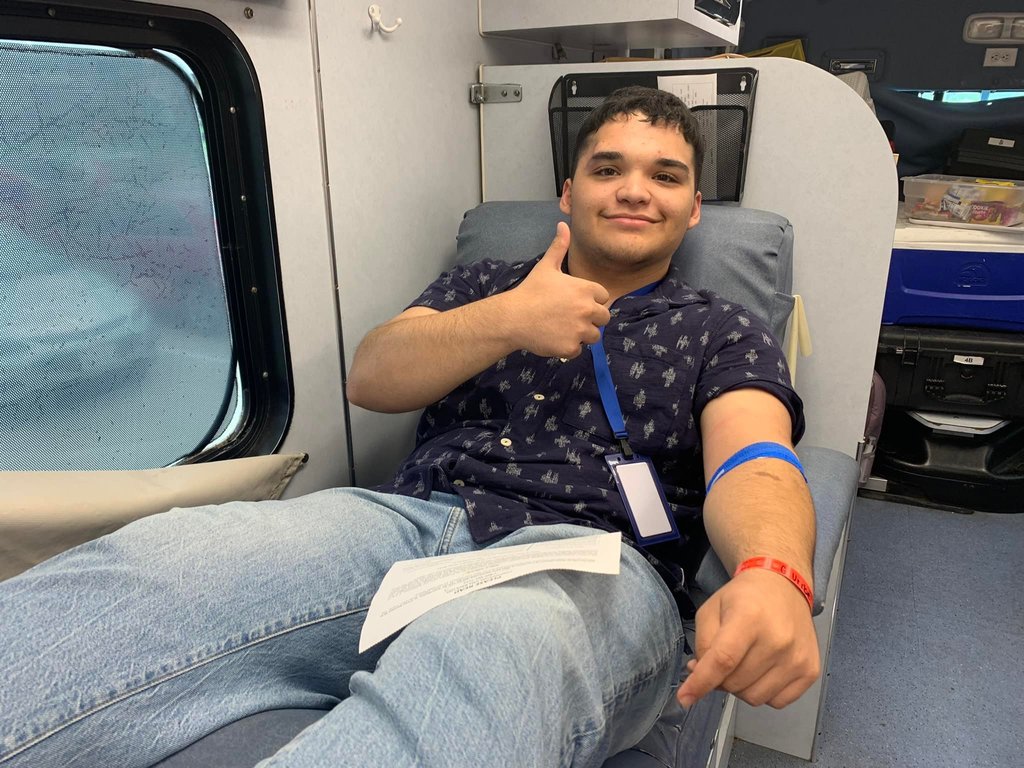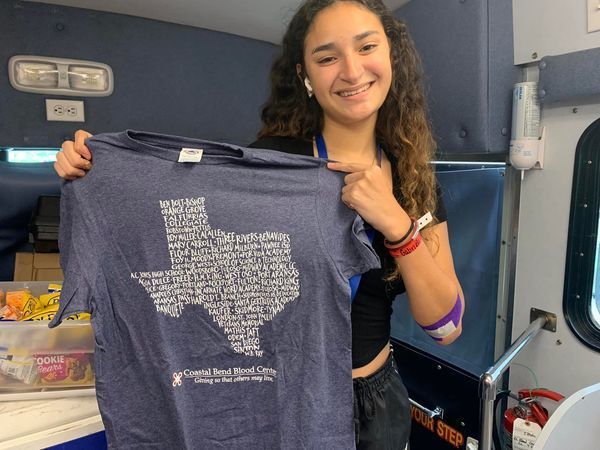 Know an IISD student that would benefit from having a mentor with Big Brothers Big Sisters of South Texas? You can nominate them today by accessing the following link:
https://www.bigmentor.org/enroll-a-child/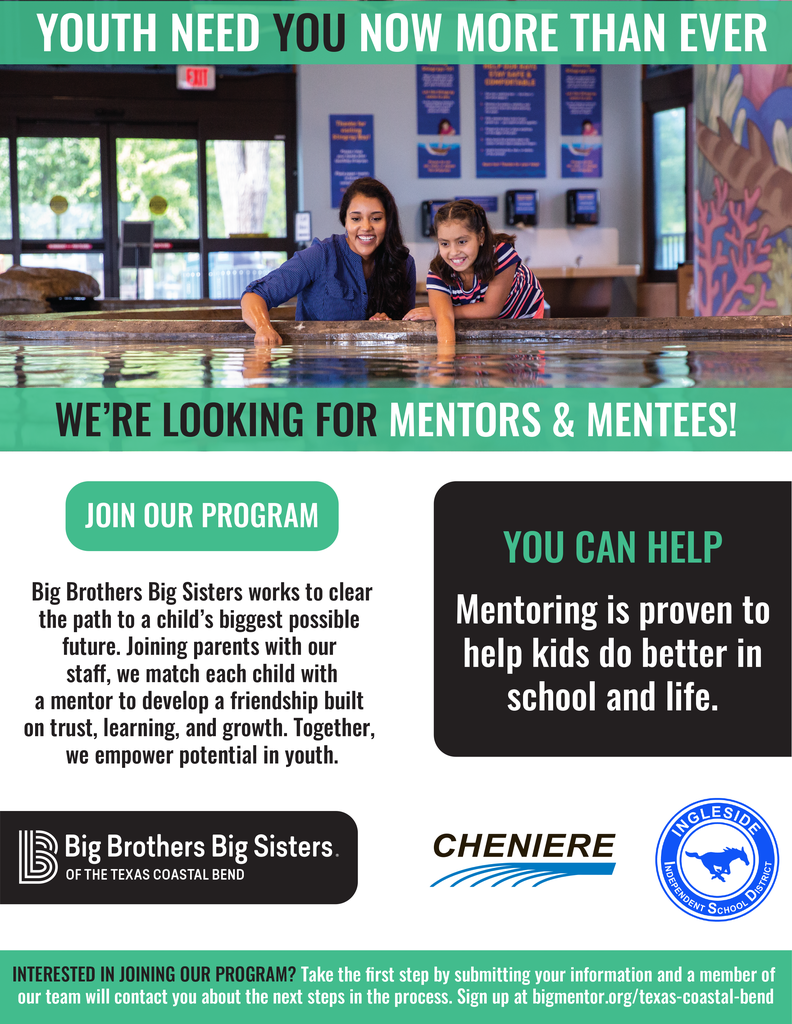 Ingleside ISD believes communication with parents and the community is important. Therefore, we use multiple methods to reach parents, students, staff, and the community. Click the link below for a detailed chart on the different ways you can regularly keep informed, particularly in an emergency.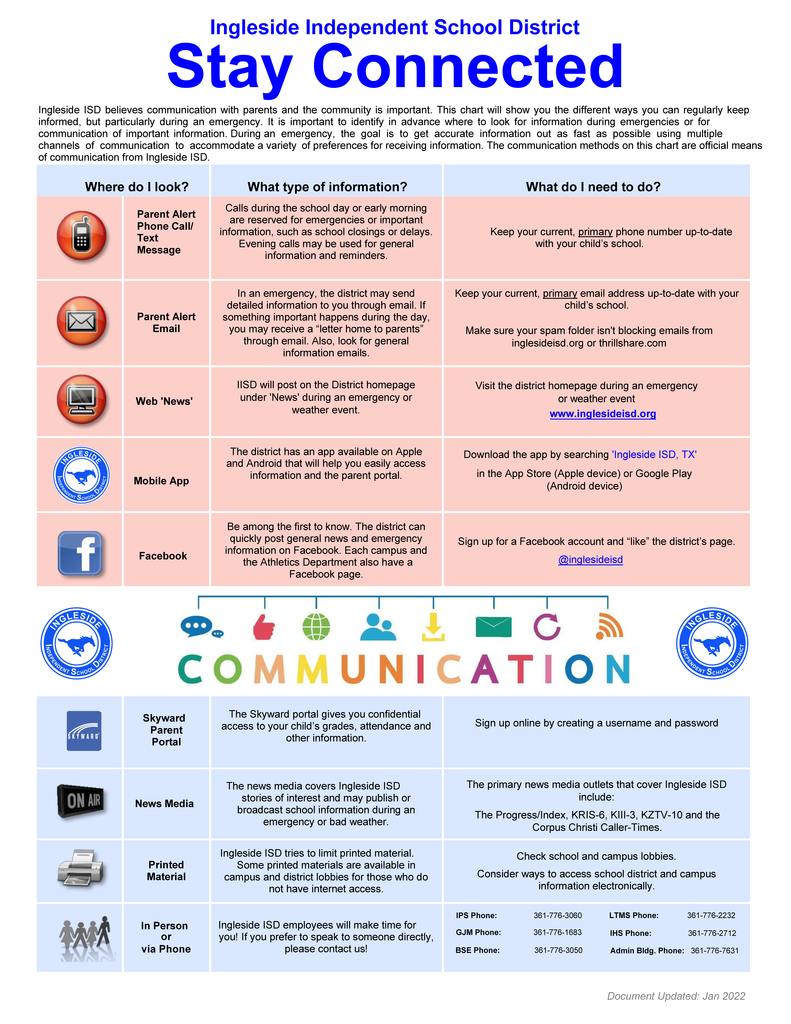 Have you downloaded our Bus Tracking app to your smart device yet? Learn more about this important safety tool IISD offers for all student bus riders by clicking the following link:
https://www.inglesideisd.org/article/674789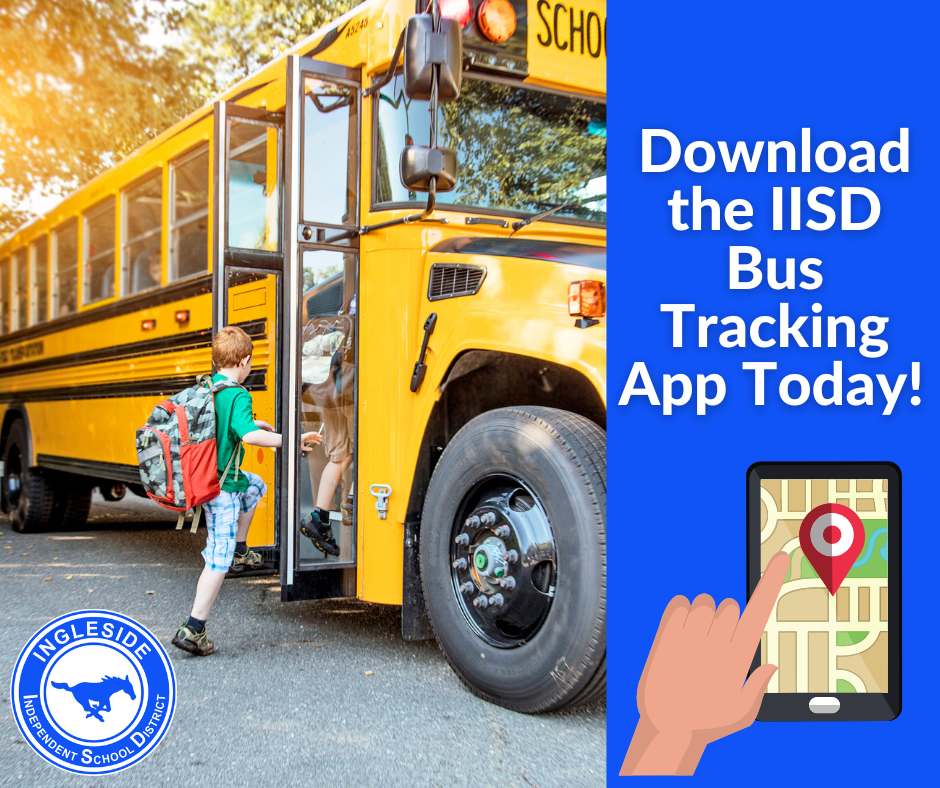 Know an educator at Ingleside ISD that is deserving of recognition? Nominate them for HEB's Excellence in Education Award! Visit heb.com/nominate to submit your application!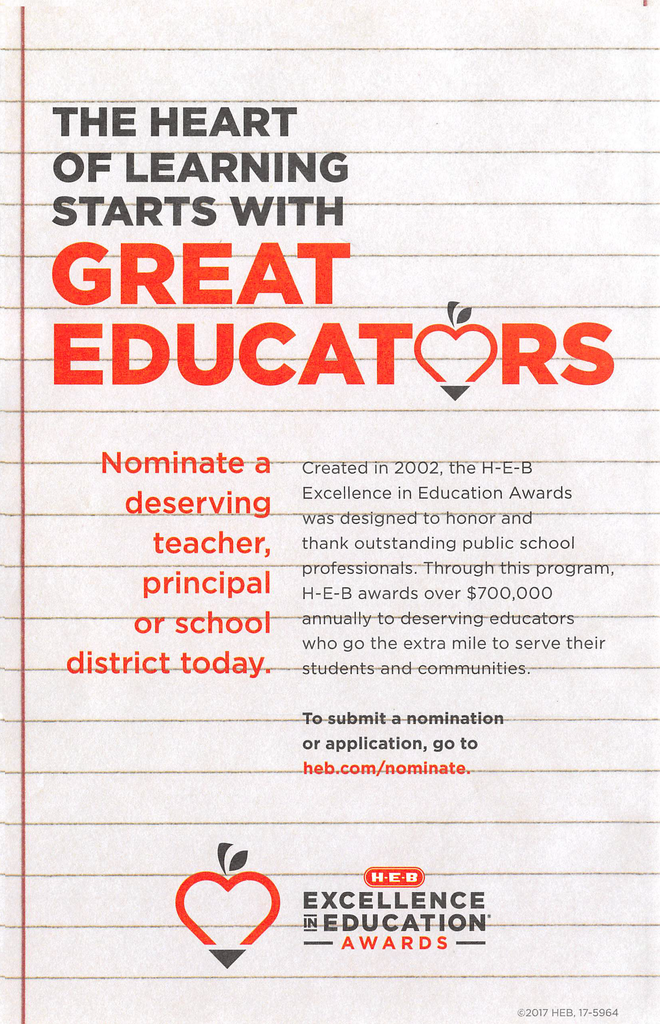 Make sure you don't miss any important notifications from Ingleside ISD. Download our app by searching 'Ingleside ISD, TX' in your phone's app store and download today!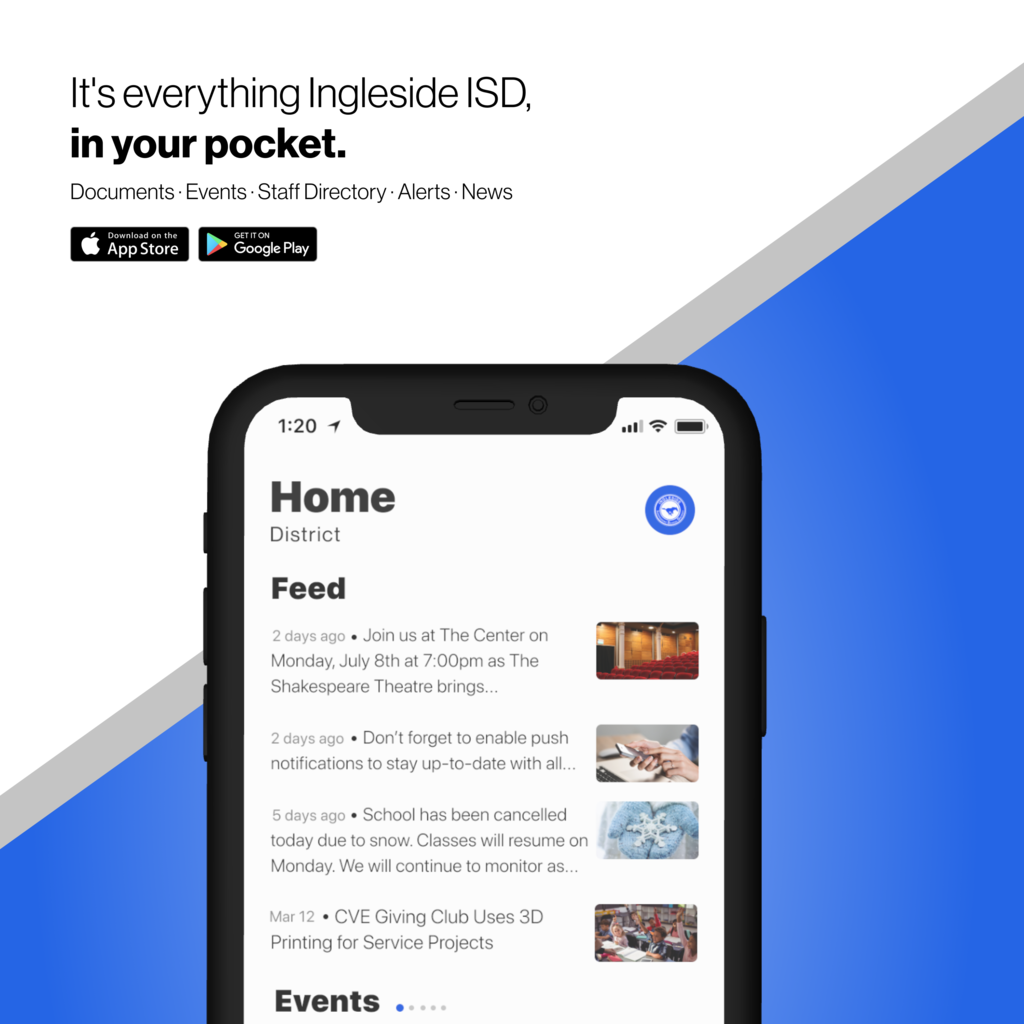 The Ingleside Band had a full house on Monday, August 15th during their Band Jam where they showcased music from their halftime show, Alien Invasion. Spectators and students got to enjoy free food, drinks, and lots of door prizes. What do you love the most about the Ingleside High School Going Band from Mustangland? Share your support in the comments below! 🎼🥁🎷🎺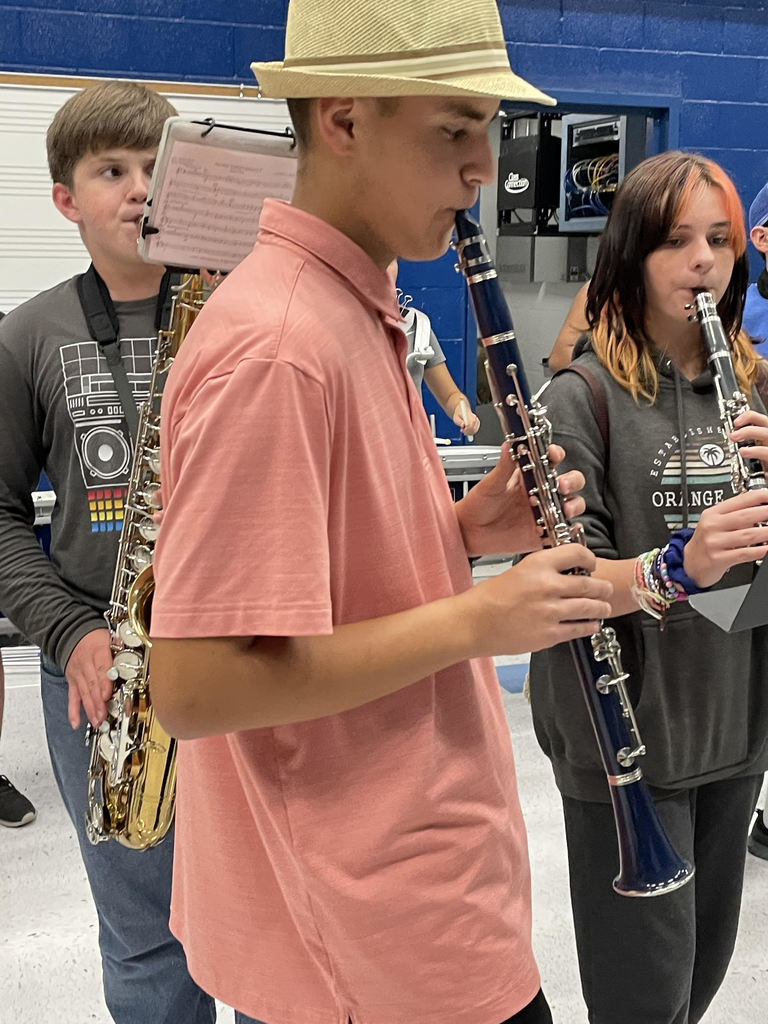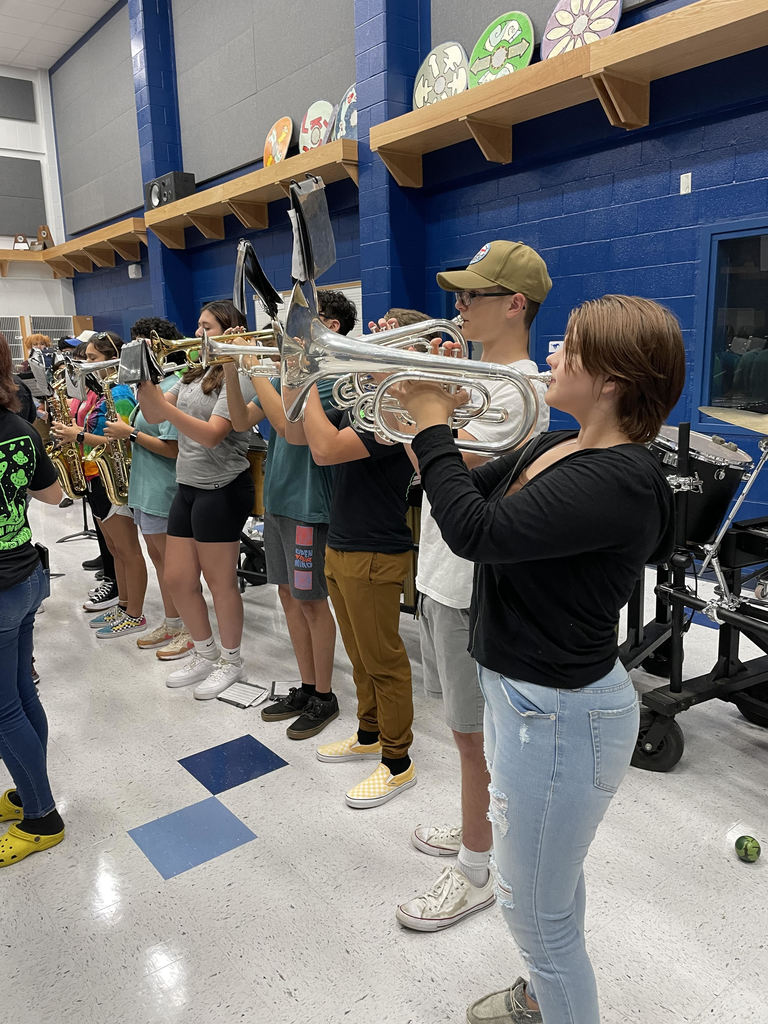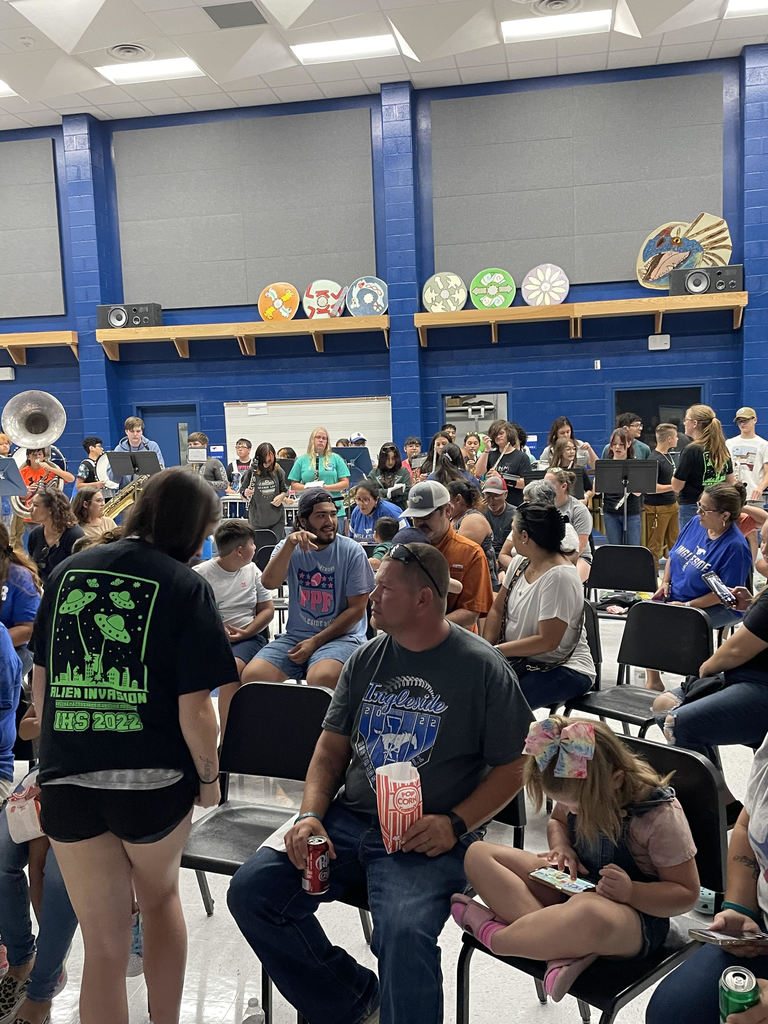 TAKE ME OUT TO THE BALLGAME: Ingleside ISD has partnered with the Corpus Christi Hooks to give families an opportunity to attend a baseball game on Sunday, August 21st at a special discounted rate for Ingleside ISD families. If interested in attending, you can purchase your tickets by using the following link:
https://fevo.me/inglesideisd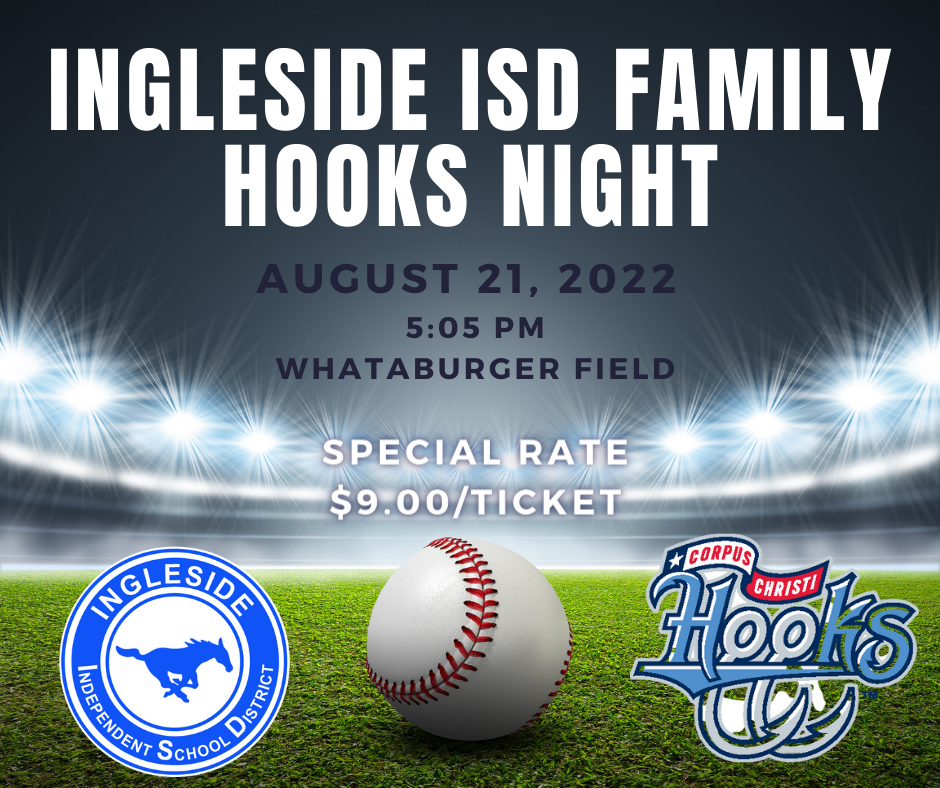 Ingleside ISD is holding a mandatory training for individuals seeking to substitute teach for the 22-23 school year. Training will be held on Wednesday, August 10th at 8:00 AM at the IHS Lecture Hall. Registration form is located on the district homepage under 'News'.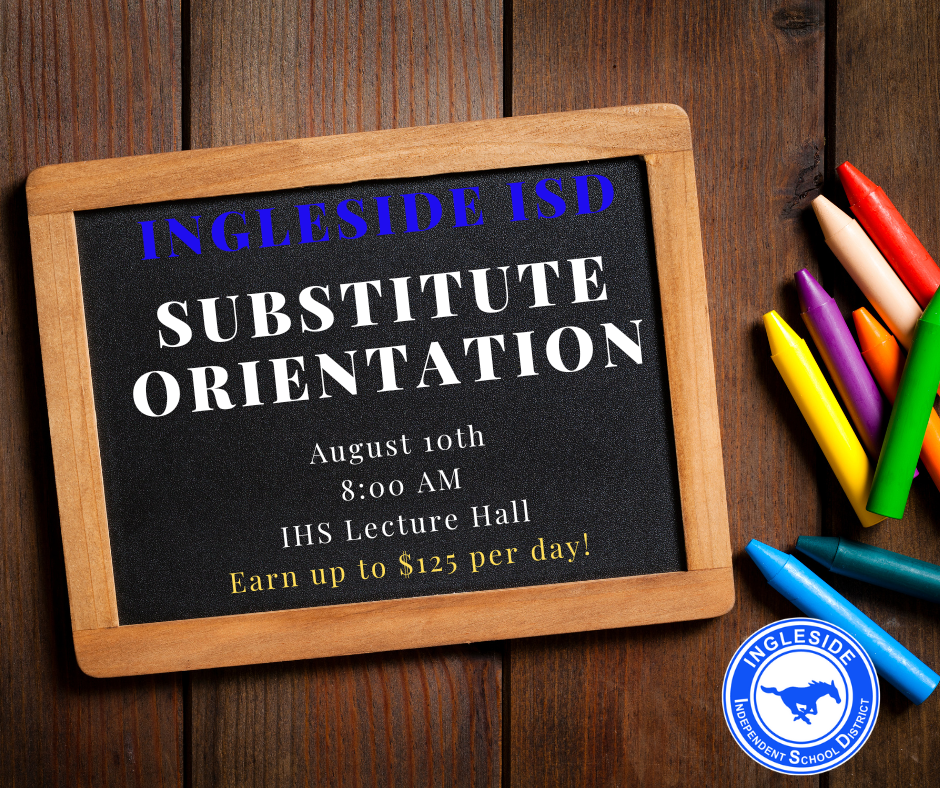 Online Registration for the 22-23 School Year is now open for returning Ingleside ISD students. To access, login through Skyward. Skyward can be accessed on the District website's home buttons, located directly above the 'News' area on the homepage which says '2022-2023 Online Registration'. Once logged in, you will click 'Online Pre-Registration (Students Enrolled in IISD 22-23)', which is located on the left column on the Home Screen in Skyward.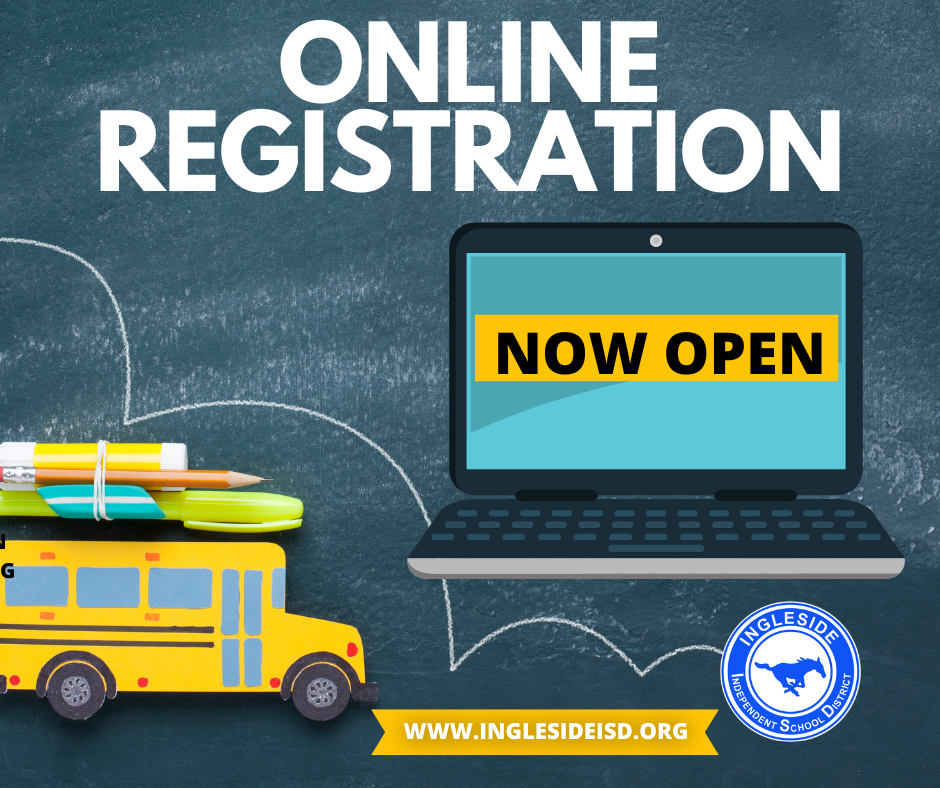 Meet the Teacher Dates IPS: August 11th, 5:00 PM - 6:30 PM GJM: August 10th, 5:00 PM - 6:30 PM LTMS*: August 18th, 5:30 PM - 6:30 PM LTMS**: August 22nd, 5:30 PM - 6:30 PM IHS: August 22nd, 5:30 PM - 6:30 PM *6th and 7th grade will take place at Blaschke Sheldon Elementary **8th grade will take place at Ingleside High School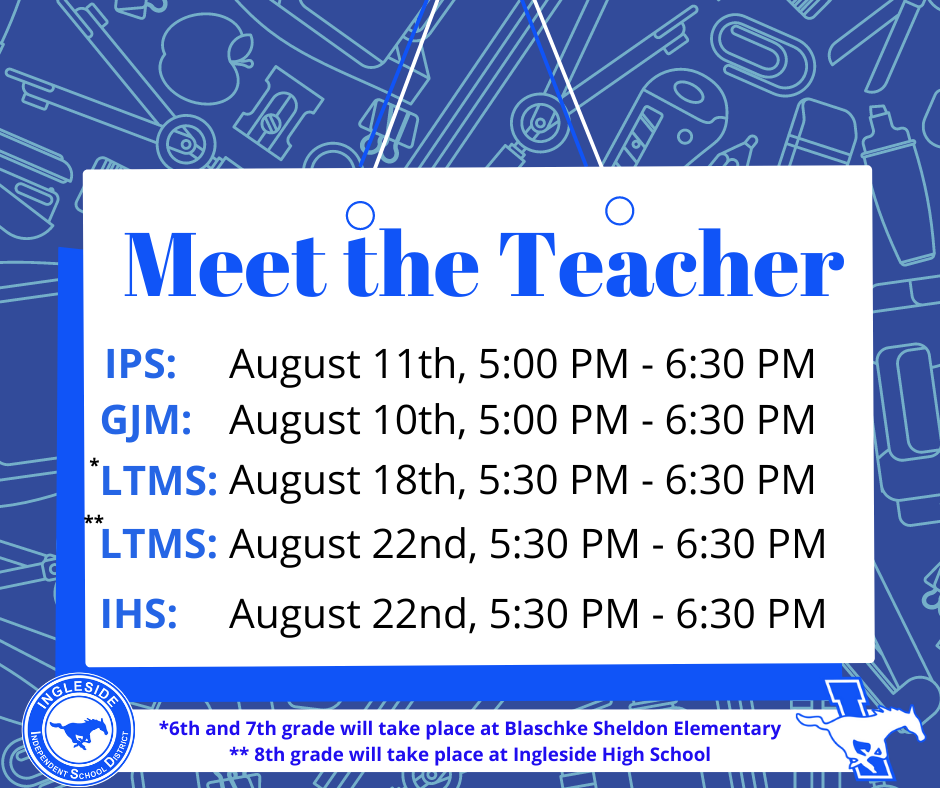 SUMMER BREAK MODE ACTIVATED: All Ingleside ISD campuses and offices will be closed for Summer Break July 18th- 29th. Regular business operations will resume August 1, 2022. We hope everyone is having a safe and restful summer break!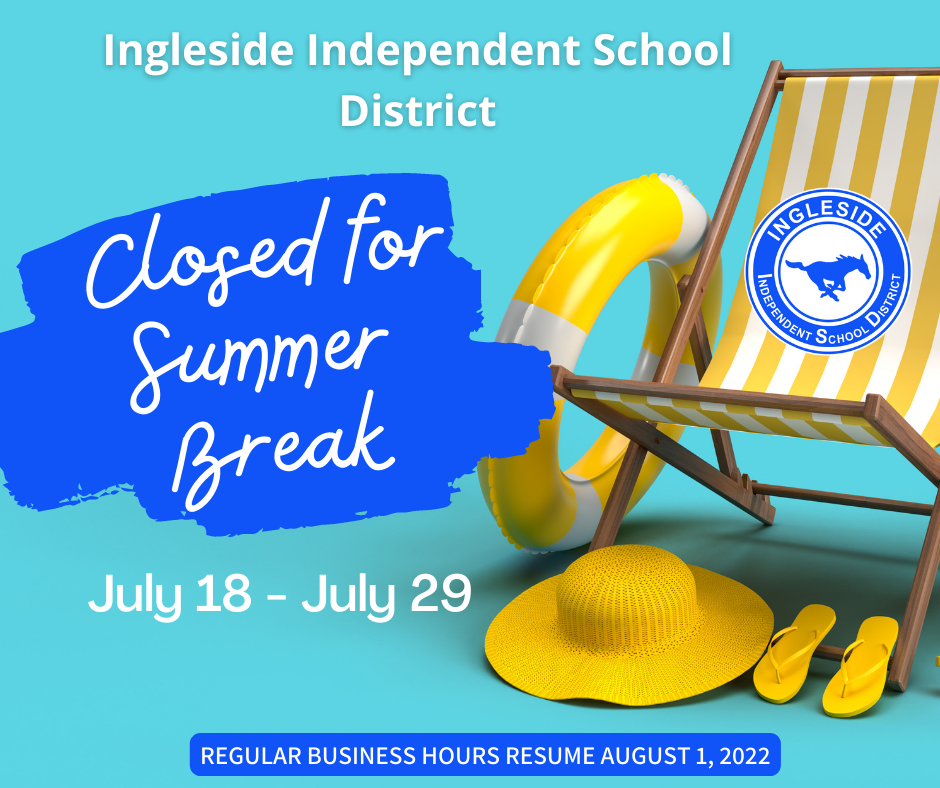 APPRECIATION POST 🧹🧰🔧🧼💙: These are the employees from the Maintenance and Custodial Departments that come to work every day and operate behind the scenes to make sure everything is in tip-top condition for students to be successful. These employees work hard throughout the summer months while everyone is away and are instrumental to keep things running. We couldn't do it without them! From oil changes on district fleet, cleaning floors, and moving furniture to AC repairs on the roof—we are so thankful for a dream team that exhibits service with a smile. Join us in thanking these instrumental team members of Ingleside ISD.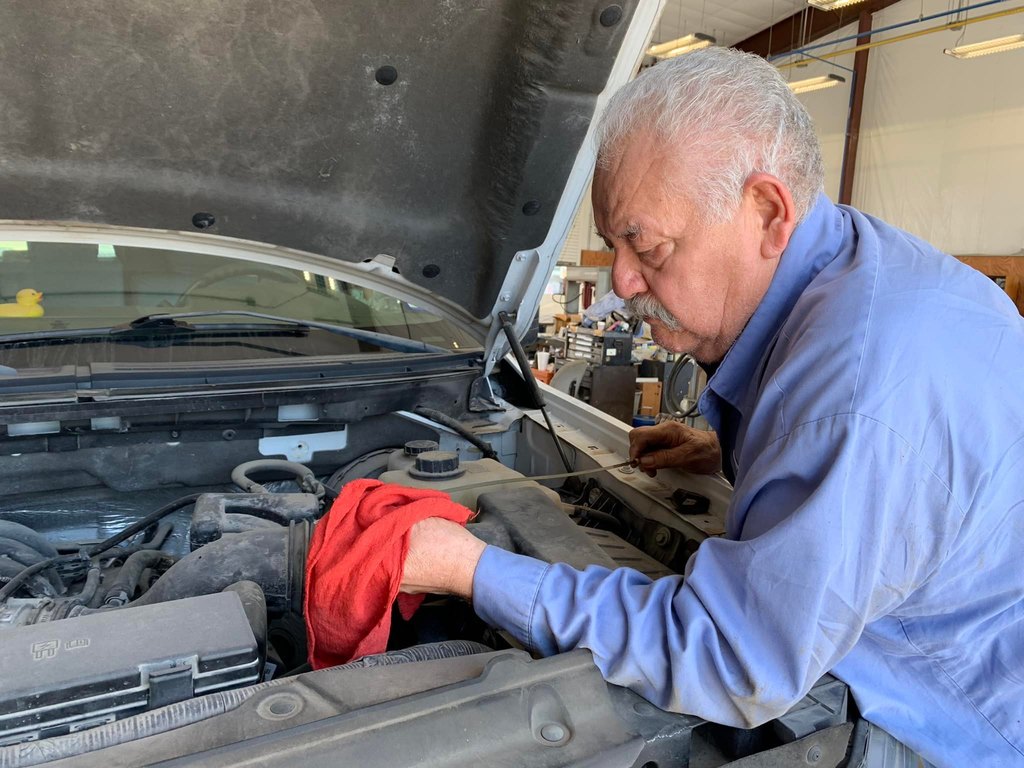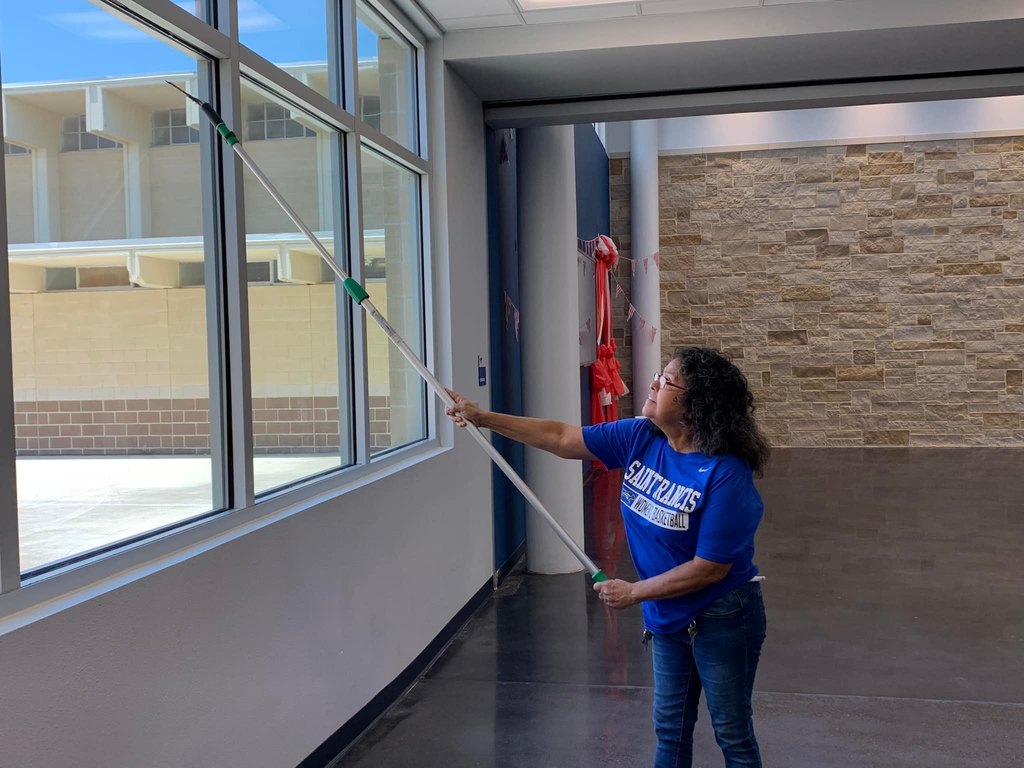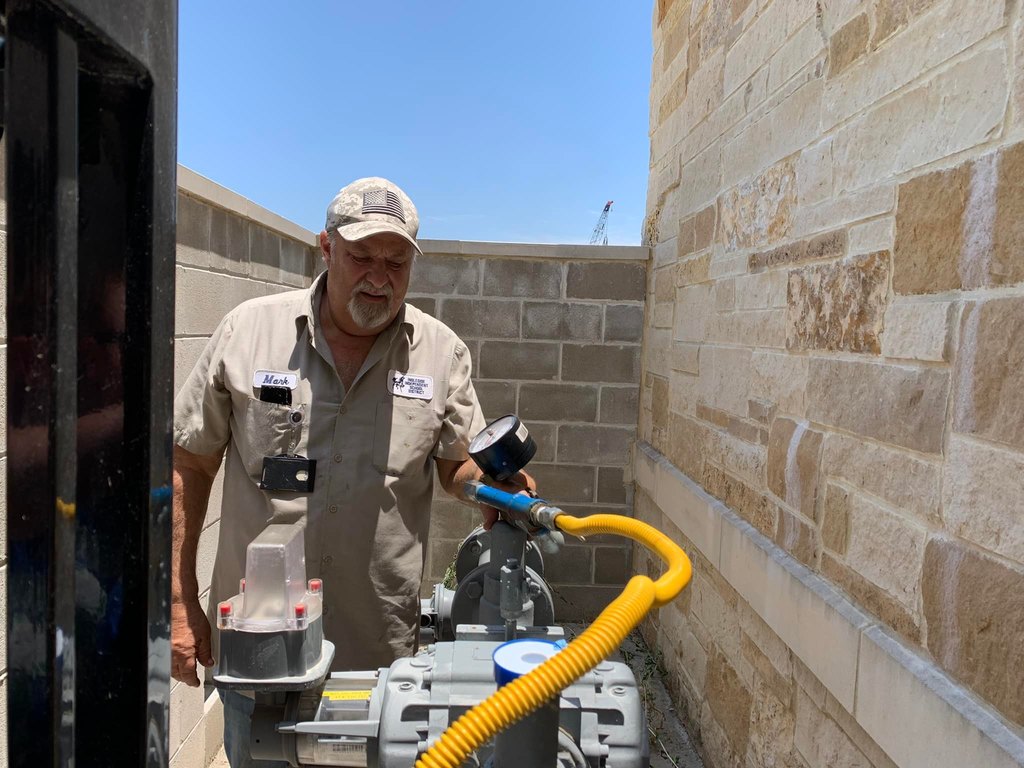 We realize how important it is to provide periodic updates about upcoming events. We are excited for the 22-23 school year, and we have been planning for many important dates over Summer Break. We anticipate the announcement of our online registration date for returning students after August 1, 2022. T-Minus 35 days until the first day of school.... but who's counting anyway? 😆🙋‍♀️🙋‍♂️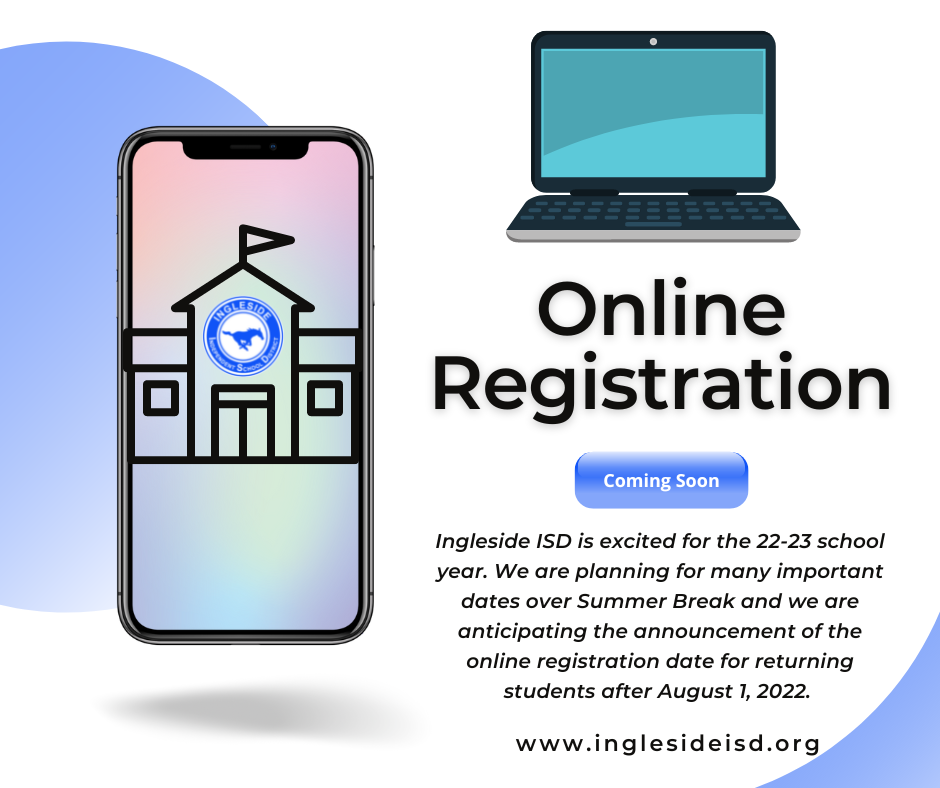 Happy 4th of July, Mustangs! We hope that you all are having a safe and restful holiday. All Ingleside ISD campuses and offices will be closed Monday, July 4th. Regular business operations will resume Tuesday, July 5th.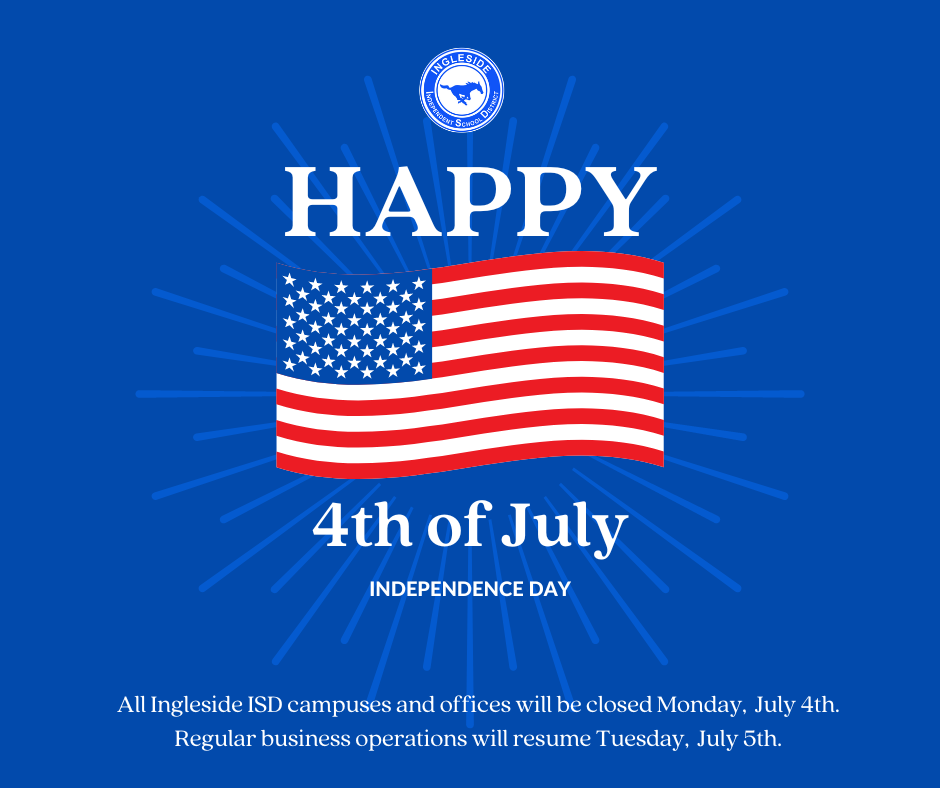 Learning isn't just for students. Beginning July 1st, parents can Log In and Learn More about their child's academic progress during the 2021–22 school year. Visit TexasAssessment.gov to access STAAR scores, learning tools, and other valuable resources. Parents, please check your email for a letter and detailed instructions on how to access the Texas Assessment Portal.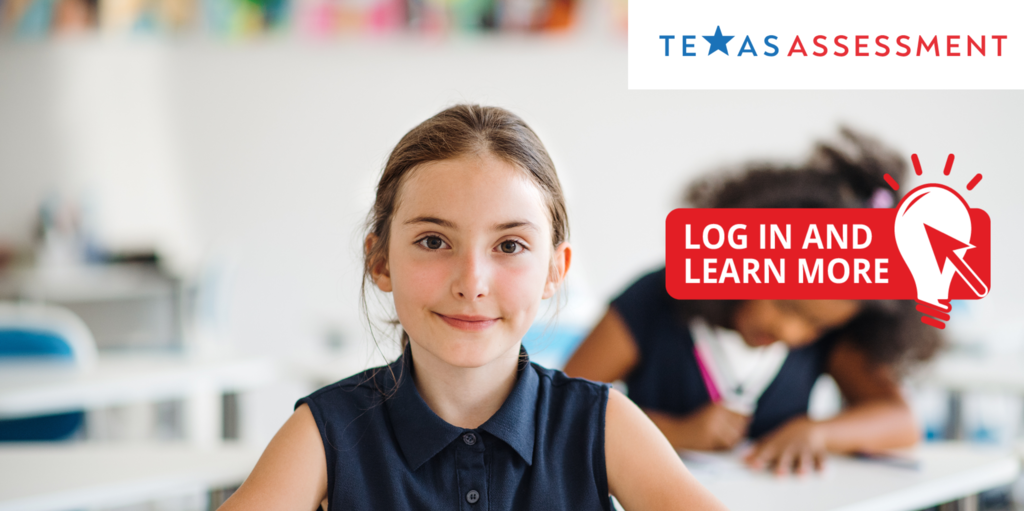 EXCITING NEWS OUT OF MUSTANGLAND: After completing their two-day choreography clinic with 365 Spirit, Ingleside High School Cheerleaders received individual bids to perform at the 2022 Macy's Thanksgiving Day Parade in New York City. Help us congratulate this outstanding group from Ingleside HS Cheer, The Spirit Of Mustangland!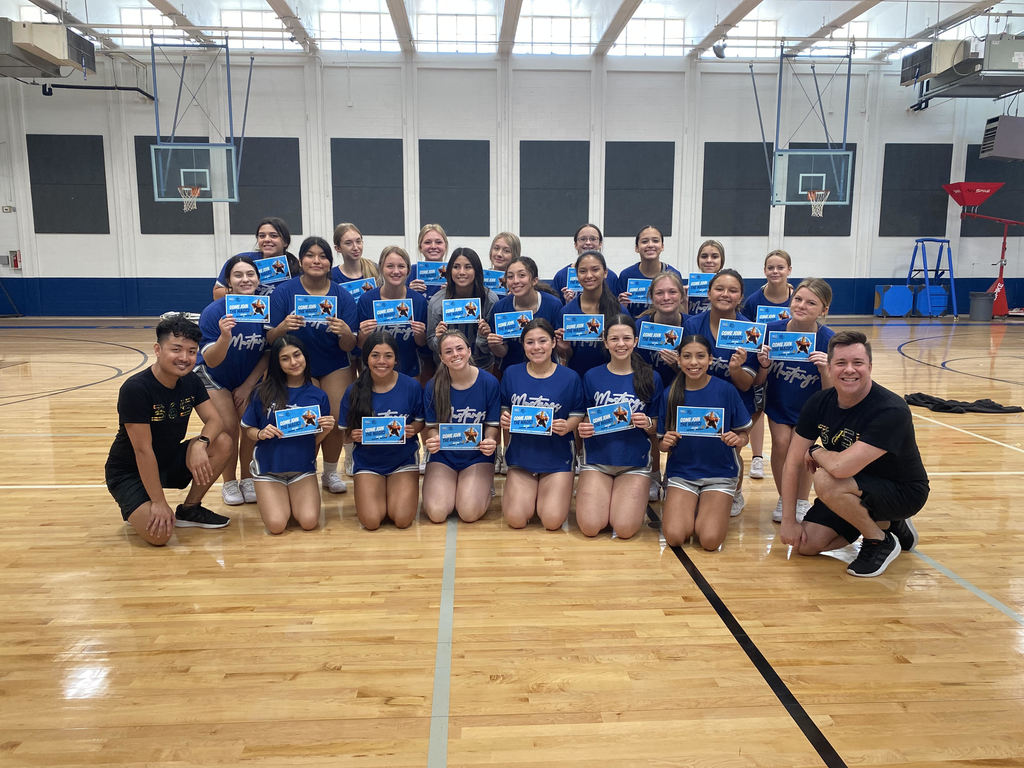 UPCOMING CHANGES FOR SCHOOL MEALS: It is important that we provide you with the most up-to-date information so you may plan accordingly for the upcoming 2022-2023 school year. As you may already be aware, the federal government allowed Ingleside ISD and many other school districts across our region to offer free meals to all students after Hurricane Harvey and during the pandemic. However, Congress did not extend this benefit for schools across the state for the 22-23 school year. This means that families that are eligible for free or reduced-price meals must apply to receive them, and all other students must pay full price for their meals. The application process for free and reduced-price meals opens on July 1st; at that time we will know what student meal prices will be set at. It is important that families apply for free or reduced-price meals during registration for their child prior to the start of school. The application will be included in the registration packet. If you have any additional questions, please contact your child's respective campus.